Sunglasses

Eyeglasses

Collaborations

Extras

Stories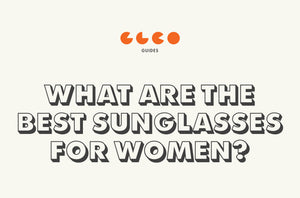 ---
Best Sunglasses for Women
Words: Jason Casillas (Director of Retail) and Nadia Bacon (Grand Store Manager)
---

Women put a lot of pressure on themselves, in general. We shouldn't but we do. And if you're like me, picking out a new pair of sunglasses for summer 2019 requires a unanimous deliberation from the Knights of the Roundtable, i.e. a group chat of my nearest and dearest. We want something interesting without looking kooky. We want something that reads "Yes, yes, I'm chic but I'm not a pain in the ass about it." And above all, we want to look like we make sense standing next to Linda Rodin and her elegant poodle.

That New New

A well-fitting pair of frames will highlight the real belles of the ball: your cheekbones. No exception to this rule. From our SS19 collection, please consider Mildred Sun and Breeze Sun. Both frames provide that practical left-to-right coverage we need from the sun and moments of involuntary side-eye. Mildred Sun and Breeze Sun sit on the face's second upper quadrant in a way that creates an always welcome lift by freeing up the space from your cheekbones all the way down.

Round Shades

Looking for a round shape which evokes your vintage style and great taste? The Morningside Sun is an iconic frame, providing the right amount of class and feminine quality to your daily wardrobe. The oversized sunglass style is inspired by Lauren Hutton's iconic look in American Gigolo. The ultra-chic rounded frames come in colorful pastel and classic colorways paired with semi-flat colored lenses. The Boccaccio is a new rounded eyeglass frame inspired by Andy Warhol, featuring a unique curving silhouette and sculpted temples. The frame is available in natural and classic tortoise colors and is accented with flared tri-pin temples.

Have you struggled with finding the perfect sunny that doesn't swallow up your face but still adds some impact? The Ocean Sun sports a soft rounded shape which frames the face while adding those classic cool vibes for days.

Tried and True

The Wilson Sun is an iconic frame, providing the right amount of class and bohemian quality to your daily wardrobe. Its styling is tailored and its details wear like jewelry – which makes it a favorite to the likes of Kendall Jenner and Emily Ratajkowski. The Kinney Sun is a best-seller for a reason. Its shape is as comfortable as it is stylish and easy to wear. It offers up a great amount of coverage and comes in a wide range of colors. This is one of our classics and is a great fit for a medium to wide face.

It's Custom

And, last but not least, if you're feeling funky or your personal style is fire, you always have the option to customize any of the GLCO optical frames with custom sun lenses. If you live near one of our GLCO stores, we recommend paying a visit to our incredible opticians. They'll be able to not only help you find the ideal frame for your face shape, but walk you through all the colors we can custom-dip your lenses in.




How do you know which one is right for you? When shopping for your next pair of sunglasses, it's okay to throw out all of those rules about round shapes with square faces or square shapes with oval faces. We find that the most important fitting qualities revolve around making sure that the frame doesn't cover your brow or hit too low on your cheeks. Comfort is key. It's time to ditch the oversized chunks of designer plastic — they do a better job of advertising their own brand rather than highlighting your beautiful features. Go for a look that nicely frames your face and helps bring out your own style and character. Let you be you, homegirls.


- You might also like: Best Sunglasses for Men Best Sunglasses for Your Face GQ: Find the Perfect Glasses for Your Face
---