Sunglasses

Eyeglasses

Collaborations

Extras

Stories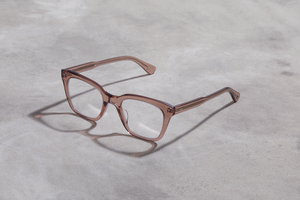 ---
El Rey
It's not easy to make something simple yet incredibly interesting, and that is precisely why the cat eye is still a modernist classic. Inspired by the effortless chic of Françoise Hardy, our El Rey frame is sure to bring you the right kind of subtle attention.
---
The history of the cat eye dates all the way back to the 1930s, when a style-obsessed New Yorker named Altina Schinasi walked into an optician's office bemoaning the lack of upscale, sophisticated frames for women. After searching for years and still finding nothing that suited her tastes, she decided to take matters into her own hands.
Schinasi's vision for a killer femme-friendly shape took inspiration from a trip to Venice, where she fell in love with the sumptuous and elegant curves of the Venetian masks she saw around town.
While her excitement for these exaggerated frames was very high, she received little to no support from the optician community. At the time, glasses were thought of as utilitarian items, not fashion pieces. It took some persistence to find a shop that could fabricate and manufacture the cat eye, but once these frames hit the streets they were an instant sensation.
Admirers of the frame included a who's who of Hollywood royalty. Marilyn Monroe and Audrey Hepburn made the cat eye a must-have for fashionable actresses — and the aspirational homemakers who wanted to emulate their fabulous looks.
By the late '60s, the cat eye that fashionistas most coveted was the larger version made famous by French singer/songwriter and eternal style icon Françoise Hardy. Eschewing traditional glamour for a more laid back bohemian look, Hardy styled her cat eyes with everything from military-inspired overcoats and second-hand dress shirts to knee high white boots and suede jackets.
In later years, the cat eye was adopted by Princess Diana, Susan Sarandon, Rihanna, and Courtney Love. Its brilliant mix of elegance and rebellion — it was created by and for women, after all — has made it an enduring favorite and a timeless classic.
Our new El Rey frame is our salute to the classic cat eye and features subtle squared off details and subtle temple construction. And if you are looking for another great take on the cat eye, look no further than our two collaborations with our friend Clare Vivier, better known to accessories fans the world over as Clare V.
SHOP THIS STORY
---