Sunglasses

Eyeglasses

Collaborations

Extras

Stories
General Admission and Garrett Leight introduce to you its sophomore collaboration titled 'California Country Club'. Inspired by retro days of coastal clubs reserved for the social elite. Our memberships require no sign ups and are inclusive to all. Leisure is our common goal within these walls denoted by UV rays, shimmering pools, and tennis nets.
This collection features General Admission's cut-n-sew pieces adorned with co-branded artwork through hand-stitched embroideries and colorful screen prints incorporating Garrett Leight's branded colorways.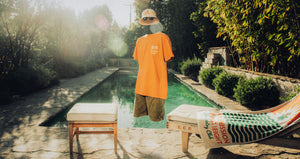 This exclusive collaboration has the perfect set of items needed to enjoy your day in the sun, from corduroy shorts, breathable tees, and lightweight jackets to accessories like a summer bucket hat and oversized beach tote bag. Each item has been custom dyed and washed to resemble a natural sun bleach usually attained through years of wear. No summer capsule is complete without a luxurious heavyweight velour towel to add some comfort to your days.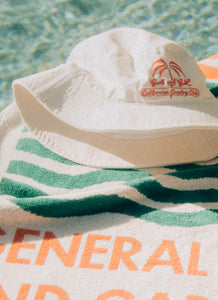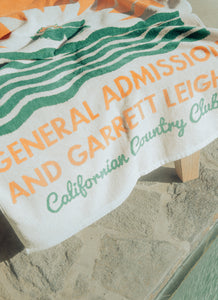 Every item is designed in Venice Beach and Made In Los Angeles. The California Country Club is a state of mind—take it with you wherever you go this summer.