Sunglasses

Eyeglasses

Collaborations

Extras

Stories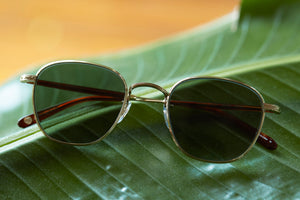 ---
World
Our sleek, square-shaped metal frame pays homage to Manchester's most notorious pop stars.
---
When Brit band Oasis went nuclear in the mid-90s, the world was introduced to lead singer Liam Gallagher: undoubtedly one of the most stylish dudes of his era. (No one has ever made playing a tambourine look so badass.) Liam has been called one of the last living rock stars for a reason: He's pushing fifty, but in a recent interview with Vogue, is still brash as ever, sporting his go-to Stone Island parka buttoned to the neck and ever-present, low profile, metal shades — a more squared-off take on his hero John Lennon's signature round glasses. If Lennon was smooth, Liam and his brother Noel are all edges. And that's what made them the perfect duo to bring rock n' roll to the masses just as it seemed like it had burned out for good.
The World is our homage to the band that turned angsty bedroom tunes like "Wonderwall" and "(What's the Story) Morning Glory?" into stadium anthems. It's a sleek, all-metal frame with a square-shaped silhouette that features an intricate coin-edge eye-wire pattern and acetate temple tips—which combined, give it a continental vibe that looks equally at home in underground London clubs as it does on California beaches.
Pairing clean functionality with frontman attitude is what the World is all about. Something the Gallagher bros, never ones to shy away from an opinion, would appreciate. Liam said in the 2016 A24 documentary Supersonic, "I think any band worth their soul is not about just the music. If you haven't got the edge, and you've just got great tunes, you're pretty fucking boring as far as I'm concerned. When both come together, though, you've got greatness."
---