Sunglasses

Eyeglasses

Collaborations

Extras

Stories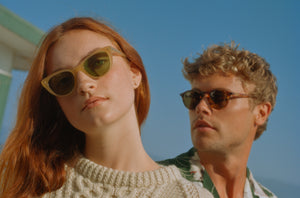 ---
Guide to Retro Frames
Guides /September 6, 2018
---

Was there an era you wish you were able to experience, but were too young, or not even born yet? How about an iconic movie character, actor, musician, or artist that made a lasting impact on your personal style? Whoever and wherever they were, they likely wore cool, unique eyewear -- that's how I got into vintage sunglass frames and retro-styled glasses. I love that you can put on a certain piece of eyewear and instantly emulate characters and styles of times past.
1920s Glasses & Sunglasses

In the 1920s eyewear makers began to look beyond simple function, first designing frames with appearance in mind. You can start to see styles that are still being worn today. During the Roaring Twenties round wire frames similar to our modern day Wilson M were popular for their minimal silhouettes and the way the frame almost disappeared on your face. You might have noticed that this vintage sunglass style has seen a huge resurgence over the past couple years. Horn-rimmed frames also became popular, a material that was eventually replaced by tortoise shell, and later, plastics. The more pronounced appearance of tortoise shell frames was a kind of proud moment for glasses wearers who decided they had nothing to hide anymore. Today we use marbled acetates sourced from Italy and Japan on many of our styles.
1930s Glasses & Sunglasses

Throughout the 20s and 30s, frames were tailor fit and appeared small by today's standards. During the Great Depression wire frames made a comeback – metal was a more affordable material than the plastics of the time. During that decade you could also start to see a lot of Windsor rim frame treatments, a detail we include on our Wilson and Wilson M eyeglasses and sunglasses.
1940s Glasses & Sunglasses

After World War II General Douglas MacArthur became an accidental style icon when he won the Pacific wearing a pair of aviators, instant classics that inspired our Riviera. Beyond that you still saw a lot of metal frames, with thick, tortoiseshell frames beginning to make some headway. Circular rims with a low temple placement was a popular shape, a look that influenced our own Seville frames.
50s Glasses & Sunglasses

And the 50s! Man, that decade is when the real good stuff started coming out, and when sunglasses became a must-have fashion accessory. Iconic sunglass styles like the Wayfarer hit the streets, with chunky, rectangular silhouettes, a whole lotta plastic, and details like temple plaques that remain influential to this day. For this look, check out the vintage-kickin Calabar or our Arthur Miller inspired Grayson.
60s Glasses & Sunglasses

For men combo frames like the Clubmaster reigned supreme with their strong plastic brows, metal rims and filigree detailing. Iconic figures like Malcolm X, JFK, and Jack Nicholson were just a few who rocked the brow line look. You can achieve a similar look with any of our combo frames, like Kinney Combo, Hampton Combo, and Talbert. Aviators also came back with a vengeance, this time oversized, a look popularized by counterculture heroes like Hunter S Thompson that still works today in our updated versions, Linnie and Club House.

While those styles were doing really well on men, women were all about cat-eye shapes like our Vista or acetate Loyola. And of course there's the GLCO x Clare V. collab. Some were made of metal, some plastic with metal details, and some even made of aluminum. In those days you could see Marilyn Monroe, Grace Kelly, Elizabeth Taylor, and Brigitte Bardot sporting that distinctive cat eye silhouette; today, similar cat eye eyeglass and sunglass styles are still being worn by leading ladies and artists like Lana Del Rey, Katy Perry, and Rihanna.

The great thing about these wild and funky frames is that you don't have to pull the weight of a star-studded style icon to wear them. Anybody can throw on a pair of Wilsons and give a subtle nod to the vintage round glasses of John Lennon or Keith Haring without getting overly hippie-dippy – some retro-style sunglasses are just timeless and never go out of style. Try your hand at mixing and matching silhouettes with different patterns and different colors. Before you know it, you might even amass a retro eyewear collection of your own.
---