Sunglasses

Eyeglasses

Collaborations

Extras

Stories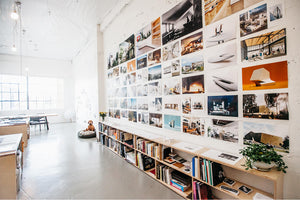 ---
---
I should probably start this by getting into the history of architectural movements in Los Angeles: modernism, futurism; drop a few big names and throw in a dingbat or googie for good measure, as a preamble to anything with 'architecture' and 'L.A.' in the same sentence. But Jai Kumaran and Clayton Taylor wouldn't want that. It's not that the architects are dismissive of the -isms surrounding their practice – more that they believe architecture should engage with contemporary culture, not trapped in the elitist bubble it often occupies.


The UCLA alumni founded their architecture and design studio, West of West in 2012 with a clear mandate: "We want to be relevant," says Jai. "It's not about making things that a small number of people appreciate – it's about making interesting design for people who aren't architects. L.A. is the perfect place to start." Southern California has long been a hotbed for architectural experimentation, and in a city so synonymous with the car, nothing is static. "We've always talked about our architectural practice as a means to engage with the changes of a city, akin to how a brand grows," Clayton explains. So what do budding architects do when they get a call to build a friend's flagship store on one of the busiest thoroughfares in the city? They say yes of course. "I've known Garrett for a while, so when he reached out to ask if we could design Garrett Leight Optical California's first standalone store it was a great opportunity," says Jai. Only a couple of weeks separated that initial phone call to sitting down with the GLCO team, presenting the concept for the store and getting the contractors in to start the build. Their designs were a love letter to the city's car culture, a street-level billboard for drivers cruising along La Brea Avenue.




"It's a very small piece of product requiring display," explains Clayton, "so the architecture needs to do a lot of work to show it off and make it into an experiential, special thing." The concept was reduced to a single wall that wraps around the store's perimeter in a U-shape, encasing the window front. The wall not only provides a blank canvas for the cars driving by, but also manipulates how customers approach it. The wall guides you through the space, a topographic landscape on its side for product and curated curiosities. Exposed birch plywood edges create a patterned grain and natural warm palette that cloak storage cabinets and define the undulating horizon between the 'terrain' below and the bright white wall 'sky' above, covered with a constellation of wooden pegs. A central DJ booth and hub for the in-store team as well as a mixtape station, hanging art and viewing window into the new optical lab where prescriptions and custom lens jobs are catered for, enhance the sense of community that GLCO is so much about.




"Clay and I have been involved in capturing the aesthetic of the brand's vibe since Day One," says Jai. "It's something that's been very useful for both of us, as a studio, and for Garrett and his team because we can have a conversation about the design of a new store and everyone's on the same page, talking the same language." Elements from the La Brea flagship have since become signature details as GLCO expands, exporting the SoCal attitude of the brand to both coasts. Each city has presented a different challenge and offered something unique for the spaces that followed. Having to work with only fifteen foot of window space on pedestrian-friendly Hayes Street meant the San Francisco boutique wasn't about being a big billboard for car traffic. So a forced perspective was designed as a new take on the classic San Francisco bay window to catch shoppers' eyes on foot. On New York's Grand Street, a greater emphasis of the brand's ethos is encapsulated with a series of moments around the introverted space: a desert garden of succulents and cacti with a built-in reading area for GLCO's Spectacle magazine and art gallery; a peg wall of in-store frame and lens customisation options as well as the familiar DJ booth-cum-cashier point creates a dynamic public space for New Yorkers seeking some sanctuary when temperatures drop below freezing.




With offices now in L.A. and Portland, West of West is canvassing the left coast with retail, commercial and creative workspaces in their portfolio. For Clayton and Jai, the pair believe in embracing everything L.A. is about – the messiness, the urban strangeness, even the taco trucks – and taking this mentality on the road. The firm is revisiting the Garrett Leight story once more with their team for a new outpost to open in the heart of Dallas this fall, devising an atmospheric California sunset with a gradient lighting system of pink and yellow hues à la James Turrell. The studio also continues to look to the horizon with conceptual focus. Having worked so closely with Garrett Leight over the years, the duo posed the hypothetical question to the studio: What project would we want to design to define our own brand? The answer was 'Hacienda' – a roadside motel in the desert. Inspired by Land Art movements from the 70s, the Hacienda would similarly be a man made construction with all the depressing traits of a motel (crappy neon sign included) paired with an unexpected minimalism that turns an otherwise sketchy 'must we?" into a "must go" mirage. Clayton posted the rendering onto West of West's Instagram and hadn't expected what was to follow. "The rendering depicts this desolate place with no one in it. It's like it exists but you can never go there. Now we get these weird DMs – one was a yoga instructor from Santa Monica who wanted to rent Hacienda for a weekend as a retreat for her students. And then we were approached by a bachelorette party. It's like we made it too real and everyone wants to go."




"We came up with this great concept and we're looking at where it will lead us," says Jai. "We want to expand our audience, be accessible and retain critical ideas within architecture – we're constantly negotiating these groups." Whether it's designing physical spaces for your favorite eyewear brand or creating visionary environments in alternative landscapes, West of West transforms their blueprints into conversations that speak to you, to me, to Garrett and everyone from the Andrea Zittels of this world to the yoga instructor in Santa Monica with a bus load of Yogis.


---