Sunglasses

Eyeglasses

Collaborations

Extras

Stories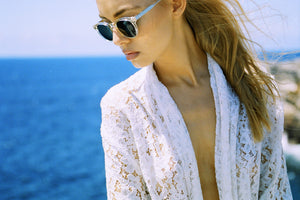 ---
---

It seems that every generation has their iconic wayfarer image: Bob Dylan in the recording studio, Tom Cruise sliding across the doorway in his skivvies, the Strokes swaggering across stage. The angular, trapezoidal shape of the wayfarer sunglass has been celebrated over the decades for its wearability and has flattered the many changing faces of fashion throughout the decades. Today, they're one of the most recognizable and successful frame shapes on the market (neck and neck with, of course, our beloved aviator).
History and Pop Culture

To understand the wayfarer's longstanding appeal, we have to rewind back to the heyday of American design. In 1952 amidst a landscape of Womb chairs, Cadillac tail fins, and atomic architecture, Raymond Stegeman, an eyewear designer for Ray-Ban, created the wayfarer. The style's clean lines, subtle curves, and understated details channeled the thoughtful minimalism of mid-century design. The groundbreaking shape also ushered in the trend of constructing glasses with plastic (or acetate) instead of wire or metal. Gracing the famous likenesses of Marilyn Monroe, James Dean, Andy Warhol, Buddy Holly, The Beatles, and JFK, wayfarers became a bona fide classic throughout the 1960s, their popularity compounded by their association with fame, glamour and the Hollywood elite. The shape's ability to flatter every face shape helped wayfarers gain mass appeal – everywhere you looked from the young President's face to folk singers leading the zeitgeist – wayfarers made their way onto the faces of a generation of movers and shakers. Then in the 1970s, as design houses like YSL and Dior entered the eyewear market for the first time, the popular style all but disappeared. Though the style briefly reemerged to commercial success in the early 80s with a prominent appearance in The Blues Brothers, the style was on the brink of discontinuation after fewer than 20,000 units were sold worldwide in 1981.




The following year a product placement campaign of all things revived the classic silhouette. In exchange for $50,000 a year, Ray-Ban wayfarers were placed in over sixty movies and TV shows annually through the 80s. The style's first starring role came in 1983 during Tom Cruise's iconic dance scene in the box-office hit Risky Business. The wayfarer-clad Breakfast Club (1985), Miami Vice (1989), actor Jack Nicholson, and musicians Madonna and Michael Jackson followed. Wayfarers even appeared in popular fiction and songs, showing up in Don Henley's 1984 hit, "The Boys of Summer." While wayfarers were everywhere throughout the 80s, they experienced a major decline in the grungy 90s, and sales plummeted as wraparound shades from brands like Oakley took center stage. In the mid-aughts, wayfarers reemerged as a stylish silhouette as vintage clothing and accessories dominated both street and runway fashion. Today, the frame shape is regarded as a style mainstay. Its robust cultural heritage lends itself well to contemporary designers looking to design similarly timeless shapes and styles by using new materials and processes.


GLCO Styles

Wayfarer glasses have a broad upper rim that goes out to a point (these are sometimes called "wings"). Although this style is still popular as a timeless, go-to pair of frames, wayfarers today can be found in almost any size and shape. If you have a square, round or triangular face, a pair of wayfarers can help provide width around the eyes and forehead area and create a more balanced look. Here at GLCO, we've got a range of wayfarers perfect for any face shape or size. Our Granada is an updated take on the classic-mid-century sunglass shape, with high-gloss acetates and mirror lenses in an eclectic range of feminine hues. The Granada is recognized as our wayfarer shape for women and best suits medium to large-sized faces. Warren, on the other hand, is a thicker acetate style with vintage inspired temple plaques and tortoise temple tips. McKinley is a smaller mid-century influenced acetate frame designed for both men and women. Last but certainly not least is Calabar, from our SS18 collection. Calabar is a retro wayfarer silhouette with a new temple design inspired by 50s car fins, a distinctive dipped temple and eye-catching plaques.


---