Sunglasses

Eyeglasses

Collaborations

Extras

Stories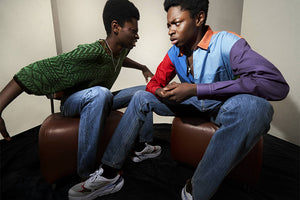 ---
Till Janz Can't Stop Creating
Meet the artist behind our latest collaboration with Italian style legends Slam Jam.
Words: Elliot Aronow
---
They say that the art world hasn't had any real center of gravity since the passing of Andy Warhol and Jean Michel Basquiat in New York City in the late '80s.
Another perspective might be that due to the "internet of things" there is no longer a need for a center, or even an art world. In a time when the barrier between commercial art and fine art is laughably dated, everything is up for grabs.
Few artists speak to this new landscape better than Till Janz, a German-born creator whose striking work includes editorial photography, digital campaigns, AR, Avatars, 3D scanning, moving images, portraiture, and a variety of other interdisciplinary practices which have yet to be formally named.
In step with the spirit of the times, Till Janz's work doesn't create hierarchies between content and art, or technology and humanity. It's all blended, although "reprogrammed" might be a more fitting term.
Where things get interesting is when you start to notice how Janz's keen eye for composition, lighting, and color (all the tentpoles of traditional "good" art) start to rub up against his love of a good story. His work can be very pretty, but not in the safe and saccharine way that a lot of fashion images can be. Hidden inside his images are myths of power, beauty, mortality, and consumerism. There's also a few not so subtle sexual metaphors as well, just to keep things spicy.
Part of Janz's appeal is that while he takes his work very seriously — most of his pieces go through hours of painstaking digital editing and manipulation — he doesn't shy away from using humor to create intimacy and connection. As a former UX designer, he's always been focused on drawing others into his world.
Thanks to partnerships and collaborations with everyone from Nike, Burberry, and Maison Margiela to hip publications like Interview, Dazed and Confused, and Wallpaper, more and more people are finding their way into Janz's world.
For an intro to his work, you can look no further than his recent campaign for our collaboration with Milan-based Slam Jam, which was photographed and creative directed by Janz. Using a combination of digital manipulation and stark portraiture, the world he creates is the frontier of a wide open landscape.
We hope you enjoy the journey into this new terrain.
---