Sunglasses

Eyeglasses

Collaborations

Extras

Stories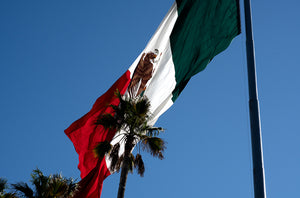 ---
Tijuana
WORDS & PHOTOS: Michael Townsend
---
July 18, 1984: I always traveled back and forth through Tijuana with my uncle's family, and we always stopped at the same McDonald's on the way back. For no reason I can remember I didn't go that day, and that was the day that my relatives were making their return trip, faithfully stopping at the McDonald's on San Ysidro Boulevard, when a man walked in with an Uzi, a Browning HP, and a 12-gauge Winchester 1200 and shot and killed 21 people of mostly Mexican descent, including my aunt Blythe and cousin Mateo.


I came to associate this mass shooting with the "dangerous" side of Mexico, with scary trips back and forth through Tijuana. Only later did I put together that the shooter was a fellow American, an Ohioan, killing all these people inside the golden-arched icon of the USA. Mexico wasn't the violent country that day, and only hazily, inexplicably, did the event heighten the discomfort I came to connect with Mexico's semi-otherness. But Mexico, an extension of my life in California, mi vecino, has always been there for me. My own recollections are a drop in the vast bucket of our region's collective experiences crossing the world's most-crossed border. No wall or anything else can ever diminish or undo the exchange—of DNA and of culture—between Mexico and California. My California-born mother was encouraged to assimilate as a child, and I've always regretted never mastering the language.
As far as neighbors go, Mexico is a good one. You might not know it from our president's excruciating, out of touch cries for the wall. You might not even know it from the hardworking immigrants who have been helping make America great for generations, my mother's parents among them. Tijuana, Baja California's largest city, now shares a $230 billion economy with San Diego that no businessman, even a buffoon of one, could feasibly attempt to impede. Tijuana is a city like many of America's: streets de ned by squalor and growing swaths of gentrification, patriotism paralleled by political critique, a much-referenced homicide rate that is still lower than St. Louis' and Baltimore's.




Foodies now have the option of forgoing the excellent nose-to-tail taquerías found in every neighborhood for more obscure destinations, like parking lots where fusion trucks congregate and restaurants whose menus, ambience, and wine pro- grams compare to Portland's or Austin's. Ordinary comings and goings of work and school coexist alongside Tijuana's entrepreneurial spirit, Mexico's most palpable. Murals and street signs, as likely to be commissioned and condoned as not, give the city bursts of color, hope, and angst. Downtown, Avenida Revolución revolves around the promise of American tourists and teenaged hipsters. Its farmacias lure in passers-by with over- the-counter opiates at a discount. Older mariachis are on rotation at the famous street's overfunded restaurants and hotels, their uniforms as carefully preserved as their voices.




We all have memories of Tijuana. In 1990 I saw my first concerts among the legendary shows at Iguana's, where Jane's Addiction and Nirvana played. In '92 a group of my friends and I celebrated our high school graduation, narrowly avoiding jail and half-drunken brawls. And backtracking even further, it was Tijuana through which my family and I drove to visit my grandparents' vacation home in La Jolla, next to the tourist destination La Bufadora. The Mexican La Jolla was a paradise that, to me, surpassed San Diego's. Crossing the border—and inevitably arriving in Tijuana—became a literal rite of passage when we kids could finally drive and be ourselves.


---