Sunglasses

Eyeglasses

Collaborations

Extras

Stories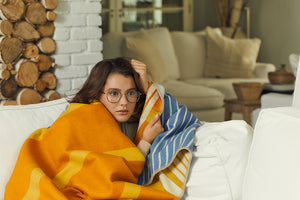 ---
---
Out with the fast, and in with the slow — at least when it comes to fashion. With fast fashion rightfully condemned by environmentalists and fashion insiders alike, there's a universal quench for slow fashion and goods. If one brand is ripe for the spotlight, that's Pendleton Woolen Mills. Sustainably produced? CHECK. Exceedingly durable? CHECK. Classic designs and commitment to its Pacific Northwest community? CHECK and CHECK. So exactly who is Pendleton and why should you care?
Once upon a time (in the mid-1800s) in a land far away (England), Thomas Kay, an expert in weaving, left his homeland to establish several wool mills in Oregon. Two generations later, his grandsons would go on to preserve their family legacy of quality, innovation, and vibrant creativity by creating the Pendleton Woolen Mills we know of today. While the industry has changed substantially since then — to give you an idea, there were over 1,000 woolen mills in the United States when they opened and today that number has dropped to three...and Pendleton owns two of them — their dedication to quality, sustainability, and storytelling has never wavered.
As a PNW heritage brand, Pendleton was the first company to work with Native American advisors to develop their celebrated designs. Each Pendleton piece, decidedly called "functional art", features bright geometric patterns representing a story, often inspired by a specific geography or person. Notably, "The Harding" patterned blanket, presented to First Lady Mrs. Harding during an Oregon ceremony with Tribe Chiefs, was inspired by her sincere and honest nature.
And like any great contemporary, this story includes a pop culture shout out. 1960s American rock band and true Cali surfers, "The Pendletones", dubbed themselves after Pendleton as the woolen shirts were ubiquitous with the surf community. The band even sported blue and charcoal Pendleton shirts on the cover of their LPs. Never heard of The Pendletones? Their record label would later change their name to "The Beach Boys."
In more recent years, Pendleton has collaborated with high-profile brands to reiterate on their classic patterns in unexpected ways. Their partnership lineup includes high fashion notables like Sacai, Kith, and Matches Fashion as well as sportswear staples like Nike and Hurley.
With a shared reputation for high-quality, passion for storytelling through design, and dedication to classic styles and slower fashion, it's only fitting our paths would cross in the form of a collaboration. Our jointly produced limited-run collection features a cotton-wool woven blanket and soft case in a custom-designed pattern inspired by the colors and geometries of our backyard — the Venice Canals. Shades of blue and orange reflect the sun and ocean's intertwining hues while a bird's eye view of the canals is mirrored in the blanket's unique pattern.
We're excited to be part of Pendleton's story and hope you find yourself inspired to move towards a slower, more thoughtfully curated personal collection.
---