Sunglasses

Eyeglasses

Collaborations

Extras

Stories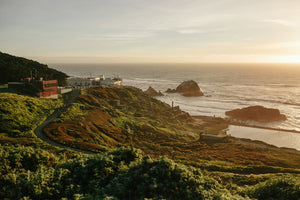 ---
---

Okay so I have a lot of feelings about NorCal and its natural beauty. Like good appreciative feelings. This was stuff I never felt growing up – at least, not to this extent where I'm like pulling a total dad move and audibly inhaling deep breaths because the air smells so damn fresh. I partially want to blame it on how smoggy LA is and I also want to blame it on how Silicon Valley is being super glamorized, therefore swaying my ultra sound judgment. But let's be real, in hindsight I just took this all for granted growing up.

Much of my youth was spent in San Jose, among beige walls and lookalike street malls. I'd visit my cousin out in San Francisco's Sunset District from time to time, but usually our afternoons were spent hypnotized by a slew of shows: Keeping Up With the Kardashians. Cribs. Say Yes to the Dress. No way did we want to trek across a few hilly San Franciscan streets to meet the ocean.

But we could only watch TV for so long. Like really though, because eventually my brother got bored of napping beside us, all antsy to go out. We were in San Francisco after all! Even if dinner was in half an hour, he'd somehow get us to layer up, brave the cold, and walk/run along the quiet blocks. We'd hurry across the Great Highway, run up some small sand dunes, and on the other side would be Ocean Beach, windy and untamed. If it wasn't foggy, the sunsets were good – sprawling on the horizon, gilding the waves and their strong churn.

Eventually we made our way down the highway and up to Land's End, at the northwest fringes of SF. A quick drive oceanside leads to the ruins of Sutro, the brunch bustle of the Cliff House, and the expanse of the Coastal Trail – all just within a couple yards of each other. From there, the spread of cypress groves and juniper clusters surrounded us, while the Golden Gate bridge stood stately in the fog and the shores sat below.

Even now, we've yet to explore all of it. Sutro Baths in particular sticks out to me; its concrete remnants, once the walls of an ambitious bathhouse in the early twentieth century, used to be grounds for seven pools, dressing rooms for hundreds, an amphitheater, and an ice rink. Nowadays its pools are are still filled by the ocean, but exposed to the elements. It's sublime, seeing the collected water almost glasslike, with chilly waves still crashing at their rims. When you throw the sky or a setting sun into the mix, it is a revelation. Like primetime for pulling a dad deep breath. What more could you ask for?
---