Sunglasses

Eyeglasses

Collaborations

Extras

Stories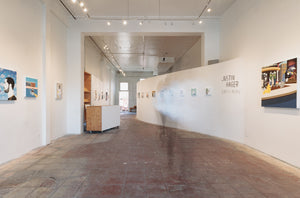 ---
---
Highland Park is no longer up and coming. That's to say, the East Los Angeles neighborhood has very much arrived – just look to the yoga studios, health food restaurants, and vintage clothing boutiques that have popped up around the bustling intersection of Figueroa and York, the neighborhood's de facto cultural hub. (You can also check the skyrocketing housing prices that spurred a three part series on National Public Radio, but that's another story and we'll leave it to Kai Ryssdal and his Marketplace team). Just down the road on Figueroa, nestled between vegetarian eatery Kitchen Mouse and Mount Analog record store, you'll find Slow Culture art gallery, helmed by brothers Fred and Max Guerrero and their friend, photographer Steve Lee.

The Guerrero brothers have essentially lived in Highland Park their whole lives, helping out at their father's restaurant The Oinkster in nearby Eagle Rock. That's where they first met artist Justin Van Hoy, a collaborator on "Pig Candy," an art zine featuring the work of Travis Millard, Sage Vaughn, and Hassan Rahim. Van Hoy also ran the neighborhood art gallery THIS with photographer Aaron Farley and designers Jeremy and Claire Weiss, but when he passed away in 2012, the Guerreros were presented with the opportunity to take over the space, and in a way, take over something their good friend had started. And so Fred, Max, and Steve took over THIS Gallery's space and built Slow Culture with the goal of maintaining a healthy art scene in the neighborhood they had grown up in. Two years later, Slow Culture has established its own distinct voice and become a destination in its own right, known for compelling shows featuring the work of both established names and artists on the rise. We talked to Fred Guerrero and Steve Lee about the birth of the gallery, their own art community, and what the future looks like for Slow Culture.

What spurred you guys to start Slow Culture? How did it come together? FRED: In 2013, Max and I were working at our dad's restaurants. It was always something we just kind of fell into and not necessarily what we were passionate about. We were all friends with the people who ran THIS Gallery so when they decided to close their gallery, we thought it was the perfect opportunity for us to do something in the space. None of us really had any experience running a gallery or ever had ambitions to. It all just kind of happened because that's what they were doing there. STEVE: Fred and I have been good friends since high school. I think three years back we were just meeting up for coffee to talk about some random zine ideas. Coincidently, within the few weeks following, the space we now occupy was becoming available. The Guerreros had come from the restaurant industry and I had worked for an art publication called Arkitip, in their studio and gallery space. I think we had one of those "fuck it" moments and said, let's start an art gallery. So Fred, his brother Max, and I jumped on the ship and it hasn't sunk yet.
We had one of those
"fuck it" moments
and said, let's
start an art gallery.
How important is it for you guys to be building an art community in Highland Park specifically? What does the neighborhood mean to you? FRED: I feel like the whole foundation of Slow Culture is based on our own community. I don't feel like the geography of where it's located is necessarily as important. If you develop a tight knit crew of artists and friends who trust you, I feel like they will follow you wherever you go. Max and I did grow up here, but with all of the recent developments here, it's hard to relate sometimes. Being able to continue on with what THIS Gallery started means the most to me. STEVE: We had a lot of good friends that occupied the space prior. THIS Gallery was the main front, which was a gallery and creative space occupied by Jeremy & Claire Weiss, Justin Van Hoy, Aaron Farley, and early on, Dan Monick. I think the main intention between myself and the brothers was to continue to keep the livelihood of a space that was founded by such amazing people. It would've been a shame for it to have turned into another pawn shop or something soulless with no watermark left. I guess as simple as it sounds, we just wanted to continue what our friends involved with THIS gallery had started.

How do you approach choosing the artists and shows you exhibit? STEVE: Luckily at first we had such a strong support network amongst our friends. Although each of us individually may "know people," as a gallery entity we had to start from the bottom up again. We were able to work with friends willing to work with us while we rose our stock price as an entity. Our first show featuring longtime friend and photographer Rick Rodney is a perfect example. He totally took a leap of faith with us. FRED: This is hands-down the most frequently asked question and also the hardest to answer. Honestly, we just try to show artists we like and who support the gallery. It's kind of like if we want to put your work in our homes or just go grab a beer with you, we'd probably want to have a show with you.

What's been your proudest moment since opening the doors of the gallery in 2013? FRED: Just the fact that we're still going and people are still interested in what we're doing here. We've only been open two years, and I feel like we have accomplished so much in such a short amount of time. We never had any expectations coming into this, so I'm really proud that we've been able to work so well together and continue to keep it going. STEVE: That our doors are still open! Also without naming names, working with artists and photographers that I've been fans of since high school.
---