Sunglasses

Eyeglasses

Collaborations

Extras

Stories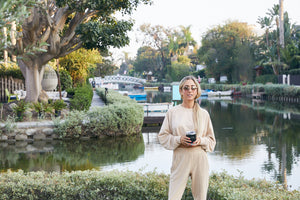 ---
Shayna Hiller
This Venice-based yoga teacher, author, and certified health coach helps her clients wake up.
---
By Shayna Hiller
I try not to set an alarm. That doesn't mean I sleep in, but I do my best to give my body a natural sleep cycle. For years, I suffered from insomnia and a lot of it was due to being scared about having to wake up at a certain time, and not trusting my body. If I have to set an alarm, it's something gentle like Tibetan singing bowls. I believe that the way we wake up sets the tone and the mood for our day, so I'm all about easing into it.
The first thing I do every day is try not to check my phone. I have some water, and then I make coffee. I was off coffee for many years, because I'd studied as a nutritionist and health coach, and there were all these beliefs about caffeine and the negative effects, but where I've landed with coffee is that it's my ritual. It's sacred time. I use organic beans, locally roasted, and I make my own coconut milk with fresh coconut cream. I have this little backyard, a very Venice backyard — basically cement with turf on top of it, and lots of plants — and I take my coffee outside and sit in stillness for a while. Then I jump in my small, old-school barrel sauna. I got a small one on purpose, because when you have a sauna everyone wants to come over and use it, so I say nicely 'I'm sorry, you don't fit.' The sauna is my think-tank, I get so many good ideas out there. Sweating is a big part of my life.
I try to stay energized throughout the day by sticking to a flow that allows space for self care, all day. I monitor my energy — not letting it get into overdrive or burnout mode - and I don't schedule things back-to-back, so I have time to check in and drift off, too. I find the more time I take for myself, the more I have to give, and the more opportunities flow in.
Most mornings, I also make time for a short walk around the Venice canals. There's a lot of beauty around me, so I walk—it clears my mind for the day and gets things moving. I went to The Institute for Integrative Nutrition in New York, and their model is very holistic: it's all about the different kinds of "foods" we put in our body. How are you nourishing yourself on all levels? In my yoga training and client work, I teach more philosophy than postures these days. For me, I found the most powerful information in the sutras and the literature, and learning to apply what I was studying to my everyday life. Everyone and their mother is a healer and a spiritual teacher, so I don't lead with that. I'm all about making the teachings accessible. I could be sitting here with my robe and turban and chanting in Sanskrit and that might be super inspiring, but if it's not applicable to your daily life than there's still a separation. I think life experience is the most valuable tool we have. We each have something unique and powerful to share with the world.
In partnership with HANAH.
Photography by Joshua Spencer
---