Sunglasses

Eyeglasses

Collaborations

Extras

Stories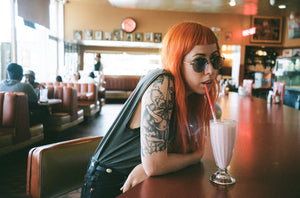 ---
Mixtape No. 51: Shannon Lay
Mixtapes /July 30, 2018
Words: Yasi Salek
Collaborator Photos: Yaki Salek
---
Shannon Lay

Shannon Lay is bright and warm, both in her physical appearance and in the energy of her presence, and I am drawn to her like a magpie is to shiny. As soft and melancholy as her music is – wide open spaces sparsely hung with haunting and unusual finger-picked magic – in person, the 27-year-old singer-songwriter is all enthusiastic effervescence. As she tells me her story, one full of happy accidents and flows followed, Lay's flame-red hair flicks back and forth and her slate blue eyes crinkle along with its beats. She's rhythmic even in recounting. Though she didn't pick up an instrument until she was 13, Lay says she always sang. "I remember just running around the playground, singing about everything. I've always loved it. I think it's like a natural occurrence." Natural occurrences are Lay's guiding principle it seems. She grew up a surfer babe in Redondo Beach, the seaside town south of LAX, "bikini strings at school," listening to X and the Velvet Underground, but sought out guitar only after she stopped playing soccer and needed an outlet for "excess energy." She took two full years of lessons before writing her first song. "I really started writing when I got my first laptop. I have so many recordings still, on this paper weight of a computer," she laughs.

Later she got a car and more doors swung open. She would head up to LA to go to The Smell, catching shows from Mika Miko and Abe Vigoda, and when high school was over, Lay immediately packed up, moved there, and joined a band. "I just went on Craigslist," she says breezily. The band, Facts on File, was made up of a couple, both twice her age. I ask if she was intimidated. "I've always liked hanging out with older people," she says. "They were very kind and patient with me, as they had been playing music for a very long time. I think that their pace was perfect for getting started." After about a year and a half, Lay met Laena Geronimo, who was looking for someone who could play keyboard and sing in her then band Raw Geronimo. Lay's manager at the vintage shop Squaresville brought them together. "Laena came in and just leaned on the counter, and the rest is history, as she always says anyway," Lay grins. Raw Geronimo had an established sound, but it wasn't long before the alchemy of Lay and Geronimo gave way to something totally new – the band Feels, a high-energy exercise in poetic punk. There was alchemy elsewhere as well – Lay also found herself profoundly changed through the experience. "I was such a different person, a different performer, back then. Laena has been so patient with me, watching me come out of my shell and be my full self."

At this point, Lay had been privately writing her own songs for nearly a decade. "I had no goals with it; it was just happening. It was important for my healing. It was like a therapy thing, a way to deal with emotions that I didn't know how to deal with," she says. "Then I saw Jessica Pratt play, and everything changed. I had never seen a show like that up until that point. The sparseness of it…it was just her and another guitar, and her beautiful voice, and the way that the audience reacted, the respect they had, how enthralled everyone was. I had no idea this had a place in the scene." This was in 2015, and Lay booked herself a solo show the very next day. Six months later, she put her first record out. "Brian Lee Hughes came to one of my shows, and he came up to me after and said 'Let's put out a record.' And I was like, hell yeah let's do it!" I ask her how it's possible she was never frightened, through all of this – moving to a new city, joining new bands, striking out on her own. "I've always been scared! I've always been the biggest self-deprecator, but I think you just come to realize that doesn't benefit you...it's not going to help you right now, so just fucking skip it," she laughs, then pauses, and her blue eyes brighten, reflective. "The conclusion of my life so far has been, just show up. Just show up, and every once in a while this huge opportunity blows up in your face so you're like okay, let's do this."

So Lay kept showing up, and things kept happening. Her second album, the achingly gorgeous Living Water, came out last year, the first release from musician Kevin Morby's new Woodsist imprint, who signed her immediately after seeing her perform. The timing, naturally, was both perfect and necessary. "I think that is one thing in music that's really hard, when you don't see the road appearing in front of you, and you just feel a bit stuck. His interest was exactly what I needed at that moment to feel the momentum keep going."
"The conclusion of my life so far has been,
just show up"

With Living Water, Lay was able to maintain her contemplative and beautifully bare-boned sound, but this time she could expand, like liquid filling a larger vessel. " had a bigger set up and production and more instruments on the tracks. My comfort level with recording got better. The first record was just me, and a lot of reverb, while Living Water is so down to earth, and filled with other people's gifts." The album received critical praise, and Lay toured much of the country for the first time as a solo artist. I ask her how that felt, after years of keeping your thing to yourself, to put it out in the world, and let the sun touch its face. "The fact that it's being well received is great because at this point I have no choice, it's what I have to do… otherwise I'd just be really broke somewhere playing guitar. For me making music has gotta happen. I've surrendered to it," she smiles, somehow with her whole body. "At least right now in my life, that's my job. That's my place on this weird planet."
---