Sunglasses

Eyeglasses

Collaborations

Extras

Stories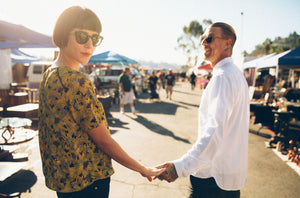 ---
Rose Bowl Flea Market
Daytrippers /December 2
Words: Garrett Leight
Collaborator Photos: Josh Reed
---
I can honestly say that if you don't know about the Rose Bowl Flea Market then you're welcome for the knowledge we are bestowing on you as you read this very feature. Your welcome for loving our brand enough to actually log onto our website, whether sporadically or for the first time, and take the time to read our stories. It's more than likely you would not be reading this if you weren't into fashion, eyewear, art, or cool shit in general.

The Rose Bowl Flea Market isn't really a secret anymore, but if you don't know about it, I guess now you do, and you need to go here. It's a true wonderland of a plethora of trinkets, found items, and custom made treasures from vintage watches to vintage glasses, stereos, shoes, clothes and more. It's the best place for new furniture and old furniture, so you can truly put your Ikea days behind you. Music aficionado? The RBFM has got enough vinyl for a whole brigade of sexy Catwoman's…wait, that's confusing, there's a ton of music on vinyl, but probably a ton of vinyl material as well. I literally can't think of anything you couldn't find here.

They have everything and so much of it is special, affordable, and made by craftsmen or passionate collectors. Literally the only reason you shouldn't visit this event at least twice a year is if you are rich and you have other people do everything for you. And even then, it's kind of lame, because you are missing out on so much inspiration. I'll admit, I'm not the most patient person. I can't get there at 7am and leave at 3pm. I have a short attention span and I don't always find what I need because I get easily distracted. But I always find something I want, many things I want for that matter, and many things I love, and so much that inspires me.

All that said and I'm not even mentioning the amazing couple Josh and Neva in front of your eyes. Back when GLCO was just a wee baby, Josh shot our first campaign at Gjelina which will forever be the most memorable content we will ever do. To this day Josh still does phenomenal work for us multiple times a year and particularly we are working on something extra special that we are excited to share with you next year. I've probably known Josh at least six years and I'Ve never seen him as happy and as healthy as is since he met Neva…about three years ago (which is like 212 and years for Josh). It's fair to say that this is a real couple that loves each other unconditionally. If these photos don't say that to you plus how rad the Rose Bowl Flea Market is, then we probably aren't looking at the same photos. Get some glasses so you can see what I'm looking at.
---