Sunglasses

Eyeglasses

Collaborations

Extras

Stories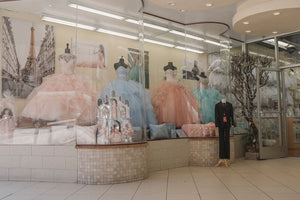 ---
Quinceañera Shops
Features /August
Words: Javier Robles
Collaborator Photos: Ian Flanigan
---
On a scorching hot Saturday morning, the Gutierrez family drove from the Coachella Valley to Broadway Avenue in Downtown Los Angeles. The family is there for their fourteen year old daughter, Yazmin, who has a smile as wide and glowing as you'll ever see. She has just seen for the first time the $1,600 dress tailormade for her: an extravagant and massive blue and white gown reminiscent of a wedding cake made for the world's biggest Dallas Mavericks fan. She tries it on for the fitting and her smile is the most beautiful thing in the store, watery eyes and all.


Mr. Gutierrez has paid for the dress and a massive three day party in his home state of Veracruz, Mexico. The family is flying there from Los Angeles to host almost two hundred friends and family. Mr. Gutierrez discretely yet proudly confesses he's in the hole for $20,000 for this. I ask him what he does for a living, and he responds that he's a gardener. We both get a knot in our throats, and then look at Yazmin's beautiful braces smile. What could possess him and all the other families shopping at this store to spend months and months' worth of their gruelingly earned income in just one night? From Chicago to San Antonio and Los Angeles the answer is the same: the Quinceañera. The Quinceañera is the traditional (and for many, mandatory) celebration of a girl's fifteenth birthday. Symbolically, it's her transition from a girl into a woman. Mostly identified with Mexico, the Quinceañera is a celebration that has spread to most of Latin America and is being kept alive and well within Mexican-American communities all across the US, as the countless Quinceañera shops along Broadway can attest to.




The event is equal parts a celebration of womanhood and traditional Latin machismo: we embrace the girl's femininity as we applaud and reinforce patriarchal stereotypes. The store owners and their customers seem at conflict when talking about why they believe the Quinceañera is such a pivotal part of Latin culture; they admit that it's as much about the girl as it is about the father showcasing his role as a provider, even if this comes at the expense of a debt that will take many years to pay off. The Quinceañera itself consists of two main parts: the mass and the presentation. The mass is the start of the celebration, a private and paid for Catholic ritual where the family thanks God for the debutante in front of all the guests. They ask God to guide her, bless her, protect her and most importantly, to be the kind of woman the church wants her to be – a good mother and wife. Dress shops aren't the only ones making a buck each time a Mexican girl turns fifteen.




Then, the presentation. The Quinceañera is hidden like a bride kept from her groom on their wedding day until the lights go out and a master of ceremonies calls her forward, presenting her as a woman for the first time ever. Tears, smiles, cheers. Whether the Quinceañera is aware of the gender connotations and implications of everything, it doesn't matter to her. This is HER night. Her parents are throwing her a party, in front of all her friends, playing the music she likes, eating the food she loves, getting her hair and makeup done, and dancing with the boy she likes (the "Chambelan") for a full night and well into the morning. No curfew, no competing with anyone else to be the center of attention, no teachers, no homework. Sometimes life isn't fair, sometimes it isn't fun. She's beginning to become aware of this as she enters adulthood, so this night might be the best night of her life.




A Quinceañera is a rite of passage and a mandatory privilege – parents expose their daughters and themselves to ridicule and shame if they don't go through with it. Every store employee we talk to admits that while it's people like Mr. Gutierrez and Yazmin that make them love their jobs, it's the shadier and considerably more opulent customers that keep them comfortably in business. Most shops in Los Angeles have portraits of famous people who have graced their establishments – names completely unfamiliar to most Americans, yet millionaire celebrities in the Latin entertainment industry: rancheras, bandas, novela superstars, and well known figures associated with the major cartels. Cartels LOVE Quinceañeras, and no expense is spared; so much so that many top cartel members in Mexico have been arrested during a Quinceañera at one point or another. It's such a public and ostentatious event that the authorities often use Quinceañeras to make their move. Mr. Gutierrez is no such celebrity. He is an honest, hardworking immigrant who has dedicated his life to raising a family and providing for them by taking care of other people's lawns and plants. Every penny he's made has been earned with sweat. I can't for the life of me imagine myself in his position, but I could share his marvel and joy at the sight of Yazmin's unbelievable smile. Social, cultural, economic and gender debate aside, it's that smile that defines the Quinceañera and explains why it remains a foundation of the Mexican-American community.


---