Sunglasses

Eyeglasses

Collaborations

Extras

Stories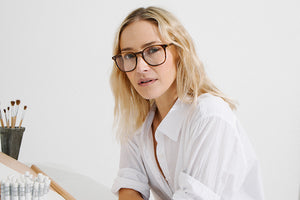 ---
Guide to Oversized Frames
WORDS: Ryan Ford, Abbot Kinney Lab Manager

---
What are oversized sunglasses and eyeglasses?
What comes to mind when you think about what an "oversized frame" is supposed to be? The answer usually depends on what decade you grew up in. The 60s had us swooning over Hepburn in Breakfast at Tiffany's and the iconic Jackie O. The 80s were about pushing boundaries with what was possible in eyewear. When the world said you can't put that on a frame, Jean Paul Gaultier, Christian Dior and Cazal answered: "Hold my beer." The aughts brought the advent of the "bug eye", now synonymous with starlets and glamour. While the Olsen Twins sported massive black Chanel acetate similar to the Playa, the Hiltons were showing every day was summer vacation in Bvlgari Shields. Now, our sunglass and eyeglass frames have brought it back full circle. Oversized frames are here to stay, but we've learned a lot along the way. You can be bold without being obnoxious. Make a statement without screaming. Glamorous without being gaudy. Pay homage to the classics while still creating something new. Follow along as we break down the big guns in the GLCO arsenal.


What are the different styles of oversized sunglasses?
Metals

Tuscany and Valencia, sisters of minimalism. These frames are stripped down to what really matters in an oversized frame: silhouette. While Valencia's round wire frames feel more Joplin, the square lines of Tuscany feel more chic.




Take a step in a more modern direction with Convoy and Marr. Both are large modified aviator glasses with a stylish silhouette that are able to stand out while maintaining an understated feel.


Acetates

A full-fledged chunky acetate wayfarer frame, Calabar captures the classic wayfarer frame with a new temple design inspired by 50's car fins.. Oozing in this 50's style, its shape is familiar but with meticulous design details that separate it from the standard.
Another bold acetate frame is the Boccaccio, inspired by Any Warhol's early 80s look. Featuring a classic round silhouette with oversized, sculpted temples, it's a statement frame that's versatile enough for everyday wear.
For a more lightweight take on an oversized silhouette, check out the Morningside, a round frame inspired by Lauren Hutton's iconic look in American Gigolo, crafted in an ultra-thin acetate for all-day comfort.
For the female fashion set, the GLCO x Ulla Johnson collab frame perfectly hits all the marks of ultra-feminine 70s style with a soft color palette and gradient lenses. 


The reigning fan favorite of dudes with big heads the world over, enter Bentley. An easy daily frame: equal parts stylish and utilitarian. This oversized frame's slim profile is matched to a large proportion, making it the ultimate versatile frame. Another minimalist silhouette with larger proportions, the Doreen offers a vintage feel, inspired by the styles worn by artists like Ken Price and Andy Warhol, and is crafted with an ultra-thin acetate for lightweight comfort.


Mr. Leight

From our Mr. Leight collection, where glamour and luxury are in its DNA, it's no surprise we have several oversized options that bring the drama. Sofia checks all the boxes when it comes to classic Hollywood style, featuring an oversized square silhouette in bold acetate colors and striking gradient lenses. For a more bohemian take, Koloa offers a strong geometric silhouette softened by rounded edges and a delicate metal construction. Paired with warm tones and gradient lenses, Koloa perfectly captures the allure of leisurely island life.



A style that works for both men and women, the Dune takes on the iconic wayfarer silhouette and refines it with a sleek silhouette and luxe details. Elegantly curved and universally flattering, it's the perfect finishing touch for any city uniform. Make a statement in Waimea, a bold, generously proportioned optical frame that lends effortless 60s jet set vibes to your look.  


SHOP THIS STORY
---