Sunglasses

Eyeglasses

Collaborations

Extras

Stories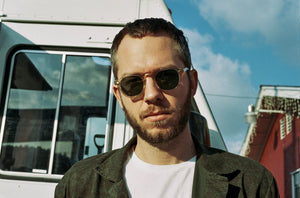 ---
Mixtape No. 28: Nico Yaryan
---
Nico Yaryan
I know you as Nicky....Where does the name Nico Yaryan come from? My mom calls me Nico and my last name is Yaryan. It's just my name. Fair enough. What makes your record worth me closing out my Netflix for? Haha. This record was a long time coming. I've been making music since high school, started out drumming, then making beats on my MPC. I used to be really into digging for weird records and sampling stuff, then decided to teach myself to play some instruments so I didn't have to search for samples. Got my first music job drumming in my friend Hanni's band on the road, did that for a few years. Got interested in writing songs that stood on their own rather than relying on production, even though my record has some pretty produced stuff too. So you should just pause Netflix for like an hour, smoke some weed, listen to the whole record on headphones, then get back to Master Of None.

If you could spend 6 months anywhere in the world writing and recording a record, where would you go and why? If I was going to write and record a solo record, I'd pick somewhere super remote, like Alaska or maybe Iceland. I need a lot of alone time to write and tend to thrive in isolation, plus it would be cool to explore the landscape. But I would like to make a record with a lot of collaborators too, probably somewhere in Mexico where I could bring a bunch of friends. Now I'm just thinking about all the other places where it would be cool to do that.
- Find Nico's jams on soundcloud and follow along on IG.
---