Sunglasses

Eyeglasses

Collaborations

Extras

Stories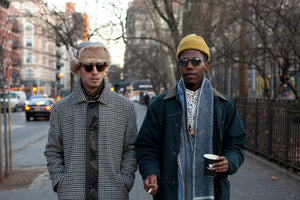 ---
New York Artists
WORDS: FREZA PARO
PHOTOS: CURTIS BUCHANAN
---

Founded in 2014 by saxophonist Isaiah Barr, the Onyx Collective got its start at KNOW-WAVE, the free art radio station started by artist Aaron Bondaroff. When Bondaroff first invited Barr to stream his sax recordings live from KNOW-WAVE's East Village storefront, Barr called upon all the musicians he knew and loved — drummer Austin Williamson, singer Julian Soto, bassist Dean Torrey, guitarist Jack Gulielmetti and keyboardist Josh Benitez — to join him on the airways.

The group played everything from bebop to soul to avant-garde jazz in those early days, and quickly developed relationships with established KNOW-WAVE vets like Ratking and Dev Hynes, which later led to off-the-air collaborations. Over the past couple years they've established a notable presence on New York's live gig circuit and this past September released their debut album, Second Avenue Rundown (via KNOW-WAVE and Supreme) to popular acclaim.


Their live-gig strategy represents a significant departure from the moves taken by most new artists today, who typically build their followings online before signing on to a label to produce a physical album. Given the grassroots nature of the Onyx Collective, this decision has proven to be a defining one, allowing the band to capitalize on the intimacy and energy that a live gig schedule affords. For millennials who have grown up with ready access to the world's music catalog, the intimacy and energy of live performance is one of the few real remaining connections between musician and music lover. Onyx in particular can best take advantage of that energy because each show, like the jazz music itself, is never a reproduction of the one that preceded it.


Outsider art has become a robust force in 21st century art, but it has never felt more necessary than in today's homogeneous landscape. Outsider art is, after all, also the art of suppressing the overwhelming urge to be invited, to comply, to bear likeness. In this world of outsider art, white gallery walls are being colored over in crayon and Pepto-Bismol pink paint; curators are nurturing a rising profile of artists whose work rely heavily on non-traditional sources such as zines, comic books, John Waters kitsch and unapologetically bad taste.


This trend is embodied in artists like Raina Hamner, whose 2014 work, "so much tenderness in my head, so much loneliness in my bed" was first displayed at Character Traits at Asya Geisberg Gallery. This New York artist, described by the New York Times as "James Ensor meets Mad magazine," possesses the drama and vibrancy of Abstract Expressionism without the burden of its existential anxieties.


Tigga Calore does not fuck around. A prominent NYC personality and DJ, Calore has established a reputation as a lead MC in the city's underground ballroom scene. Tigga's metamorphic range is impressive, quickly moving from ballroom commentator to style icon to rapper, with her recent release of a high-energy set of club-rap cuts produced by Brenmar and MikeQ. Calore's dominating presence shines in the BPMs of songs like B.E.A.D.S. (Bitches Everywhere Always Desire Shade), which spotlights the frenetic ball culture of which Calore is royalty.


The rapper brilliantly assembles the best of the New York underground, mashing together OG House and Vogue Femme into something uniquely Tigga Calore. Calore is such a legendary force in the NYC underground that New York-based FACT Mag declared Calore to be "the only real bitch running NYC." And with her fashion chops, aggressive rap style, and fierce catwalk, we don't dare question it.

---