Sunglasses

Eyeglasses

Collaborations

Extras

Stories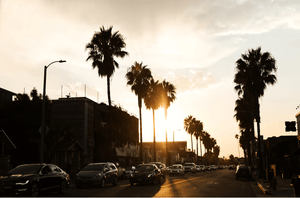 ---
Neighborhood Guide: Abbot Kinney
Daytrippers /September
Words: Karena Meyer
Collaborator Photos: Dylan + Jeni
---
Abbot Kinney

Abbot Kinney has been around the block, from a rundown drug and gang ridden strip to a hotspot of LA socialites navigating their way through tourist terrain. Gentrification paved the way for a mix of old and new (but mostly new) stores and restaurants that continue to pop up almost overnight, as older establishments have been forced to close their doors. Whether you're a local or just visited once or twice, chances are there's a few unfamiliar places to discover. This guide will help you dodge the corporate chains and techy mall additions to the neighborhood, homing in on what defines Venice today.

Shop owners Bunny Lua and Sandor Caplan opened Green House Smoke shop on April 20, 2000. Keeping the original old Venice redwood Craftsman facade, Bunny and Sandor hold true to their bonhomie environment, making customers feel accepted, comfortable, and completely welcome in their smoke shop. Both active in the Venice community, Bunny and Sandor can typically be found at the beach before opening shop. After some trash pick up and a quick dip in the ocean, they head to the store by 11ish, depending on the day. While some newcomers to Venice may balk at these varying hours, locals know the routine and don't mind checking back if need be. Their extensive selection of domestic and international tobacco, herbal cigarettes, cigars and various flavors of rolling papers (blackberry brandy, bubble gum, coconut, pineapple) are just the beginning of treasures to be found. Wooden carved faces from the 60s line doorways and eclectic art pieces left by Venice residents and artists decorate shelves stocked with locally blown glassware and antique ashtrays. Stockholm blends of espresso, London exports with dark chocolate notes and Turkish flavors that finish with a spice explosion at the end of a drag, are only a sample of the tastes this shop has to offer. Indulgent yet conscientious, using eco-friendly products like refillable lighters to cut back on ocean debris and trash left on their local beaches, Green House Smoke Shop remains an Abbot Kinney institution.

The Rosen family are the creators behind Guild, a fashion and lifestyle destination boutique with a distinct edge. Opened in November 2009, around the same time as Garrett Leight's first boutique, A. Kinney Court, Guild has remained a mecca of high end, yet approachable fashion on the Westside. Father and son Christopher and Michael Rosen define California cool while Susan and Christine Lee Rosen add the right amount of chic. White tiles and clean lines highlight cutting edge brands like R13, RtA, KESnyc as well as Pharaoh Collection. An array of stylish accessories like scarfs, hats and jewelry easily accent any outfit. Local photography from Megan Schoenbachler bolster gallery like refined tastes, while the Rosens' East Coast humor bring it all back down to earth. Not conforming to any mainstream styles while curating great fabrics and silhouettes makes Guild worth finding a parking spot.

Spouses Taku and Keiko Shinomoto opened Tortoise General Store in 2003 with the idea of bringing innovative and unique Japanese products to their adopted neighborhood. Tortoise offers an eclectic selection of Japanese homeware steeped in both tradition and modern innovation. From Hasami porcelain designed by Taku himself, to colorful hand dyed multifunctional cloths called tenugui, to handcrafted metal tea canisters made by a sixth generation craftsman from Kyoto, Tortoise products combine a fine aesthetic eye with functional design. The name and philosophy behind Tortoise emphasizes salient attributes of the store's namesake: long living objects that grow with you, rewarding the slow, simple life.

We're cheating a little on this one since it's not technically on Abbot Kinney, but any Westsider who knows coffee knows about Menotti's. Opening in Fall 2013, Menotti's has become a popular meeting spot for regulars, tourists and daytrippers alike. Named after a hidden basement speakeasy from 1915, Menotti's pays homage to its past with bourbon barrels posted outside doubling as coffee tables. Clean white tiles provide a backdrop for a chalkboard menu overlooking driftwood shaped countertops and a mint turquoise La Marzocco espresso machine. White walls pop with color photos of grinning coffee farmers from South American farms, while a vintage turntable plays anything from Outkast to and Sly and the Family Stone. And if you look closely, a framed black and white photo of bootlegger Cesar Menotti reveals a secret coffee drink list on the opposite side. But the classics on the chalkboard menu are a must. Renowned latte art champion Christopher "Nicely" Abel Alameda has worked hard creating a refined espresso and drip coffee program that shows in each pour. Spanish lattes with a dash of cinnamon and coffee tonics with a fresh orange peel highlight the signature coffee drinks Menotti's has to offer.

New to the block, Felix opened this April bringing chef Evan Funke's famed Italian cuisine to the people of Venice. Vintage storybook floral wallpaper lines the back dining room walls and large windows allow light to pour onto warm wood toned Danish style furniture and leather booths. The deeply rooted and revered culinary traditions of Italy play well with local California farm produce. If pasta could be put on a pedestal, it would be here – made slowly by hand in a temperature-controlled glass walled room located in the middle of the restaurant for all patrons to see.

A favorite hashtag of Funke's — #FUCKYOURPASTAMACHINE — is displayed proudly, showcasing his attitude on the matter if it wasn't clear enough. This meticulous attention to pasta shows in dishes like the cacao e pepe, with bursts of black pepper and sharp cheese. Wood burning ovens deliver Neapolitan style pizzas and highly sought after pane like the sfincione, finished with olive oil, maldon salt and rosemary. The restaurant's old world charm reveals a modern edge at the bar where Brandyn Tepper prepares balanced blends of spirits paired with beautiful seasonal garnishes that will make you think twice about eating bar fruit.

Long awaited MTN is the newest addition to our list, opening this past July as Travis Lett's Venice version of an izakaya after almost a decade of red tape and permitting with the occasional inspirational trip to Japan. Housemade soba like noodles and bone-batched broth exhibit deep yet bright flavors, making MTN well worth the wait. Japanese seasonal vegetables, fresh fish sashimi and grilled plates like saba round out the main ramen entrée nicely.

The locals have the upper hand here with a no reservation, walk-in only policy in effect, and communal and counter seating bolster the local vibe. Ceramic plates, river stones and locally sourced linens greet those fortunate to get a seat. Painted mushroom wood walls create a bucolic atmosphere with an exposed rooftop letting the cool ocean air in. A Venetian veteran, Lett does not disappoint, giving the Westside another reason never to cross Sepulveda Boulevard.
---