Sunglasses

Eyeglasses

Collaborations

Extras

Stories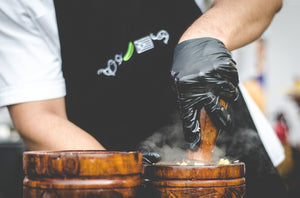 ---
Mofon∙GO
Photos: Will Langenberg
Words: Lucas Owens
---
David Chang has steamed pork buns. Andy Ricker has Ike's Vietnamese chicken wings. And Manolo Lopez has Mofon∙GO. Mofon∙GO is fresh plantains, adobo spices, crispy pork cracklings in a mortar, mashed into oblivion and topped off with savory fried pork or creole chicken. Manolo, a graphic artist by trade, has taken this traditional Puerto Rican banquet dish, designed it a new persona and slung it by the thousands at his Brooklyn pop-up Mofon∙GO NY. With its strong aesthetic and modern take on traditional Puerto Rican cuisine, Mofon∙GO NY has been gaining traction as one of Brooklyn's newest pop-up gems. With just a few homespun dishes in his repertoire, Manolo is rewriting Puerto Rican food for NYC's ever-particular food scene from a 10 x 10 food stall.

This all suddenly makes sense once you meet Manolo. "Mofon∙GO NY was born design first" he says. A native Puerto Rican, Manolo studied design at NYU. One Christmas during college, unable to afford a trip back, he went searching for an authentic taste of home. "I had a really bad experience with the food, the service, everything. That sparked up an idea that there was a gap." Manolo learned to cook by watching his mom in the kitchen. He credits her as the inspiration and backbone of all Mofon∙GO's offerings. To win a coveted booth at Brooklyn's popular outdoor market Smorgasburg, he actually flew his mom up from Puerto Rico to secretly cook for the judges. "I knew I could present it, but we didn't know how to cook for that many people yet. My mom could."
David Chang has steamed pork buns. And Manolo Lopez has Mofon∙GO.
Since then, Mofon∙GO has caught the tongue of The New York Times, The Gothamist and Bon Appetit. Described by Manolo as the "official unofficial dish of Puerto Rico", mofongo is usually a glutinous meal, served in the large wooden mortar and pestle it was ground in and reserved mainly for special occasions. "We made it a finger food. We redesigned what it is." Serving their version in tiny sugarcane paper bowls, resembling the pit of a mortar, Mofon∙GO NY still honors the mortar and pestle, but has ditched its sleepy aftereffects by focusing on making it more accessible.

Although Manolo is lauded as one of the up-and-coming Puerto Rican chefs in the country, he hasn't let his success get to his head. " I'm not a chef," he says. "Maybe a cook. Definitely an entrepreneur." . He's careful not to mislead those seeking sage culinary advice on all things Puerto Rican, and prefers to call his food "specialty dishes." Manolo's secret ingredient might be his wily tendency to avoid being labeled. But when you see him and his crew of alpha cooks clad in custom linens and darkened shades pounding out mofongo or Nuyorican salsa on a summer Sunday, you can't help but notice the growth spurts of something new. It is a culinary movement led just as much by the eye as the stomach, and orchestrated with a chef's knife in one hand and a Wacom tablet in the other. So if you want to call Manolo anything, call him hungry. Whatever his secret, it's working – look out for a brick and mortar location in Brooklyn later this year.
- Find Mofon∙GO NY on the web or stay in touch through Insta.
---