Sunglasses

Eyeglasses

Collaborations

Extras

Stories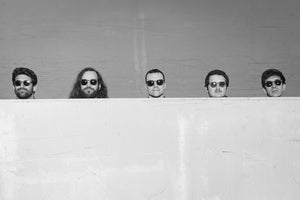 ---
Mixtape No. 39: Touché Amoré
Words: Rachel Plotkin
Photos: Rick Rodney
---
Touché Amoré
Touché Amoré
Post hardcore band Touché Amoré meet to practice on a cold, cloudy afternoon in a studio space south of Boyle Heights. Train tracks, parking lots, and run-down commercial warehouses surround the building. While the rest of the world nurses its collective hangover the day after New Year's, the LA natives prepare for their upcoming European tour without skipping a beat. The space itself is no bigger than an NYC efficiency-sized apartment and yet the quintet fits comfortably. The band loads in, does a run through of the set list, and each member leaves separately. The next time they see each other will be in a few weeks in Eindhoven, Netherlands, the inaugural stop on their tour.

After playing together for ten years and counting it's no surprise that Touché Amoré's practices run seamlessly. With four studio albums under their belt, they've surpassed the shelf life of a typical band within their category. What does it take to survive in a hotly competitive industry where most don't make it past two EPs?
One main key to the band's success is honesty. Touché Amoré doesn't exactly look like the cliché, mass produced, post hardcore band. They feel more relatable, more authentic. Not a single member of the band sports knuckle tattoos or ridiculous razored hair. "We look like normal guys," says guitarist Nick Steinhardt, who admits an affinity for Chelsea boots and Drake. The regular guy route seems to be working – it's earned them legions of loyal fans across the globe.

As tight as the band is, they're also strikingly different in their interests and creative pursuits. These differences add variety and balance not only musically, but interpersonally as well. Jeremy runs his own label called Secret Voice, which helps out up-and-coming bands by putting out 7"s of their music. Drummer Elliot Babin is super active and enjoys being outdoors. Bass player Tyler Kirby is described as the most musically trained of the group and appreciates classical music and meditation. Guitarist Clayton Stevens is an animal lover and enjoys hanging out with his dog. Nick has a successful career as a graphic artist – aside from designing the merch for his own band, he's worked with pop superstars like Britney Spears and Selena Gomez.
The band is so dissimilar they joke they don't even like the same music. "I think we figured it out once. There's only four bands we all like," says Tyler. "Death Cab for Cutie…Jimmy Eat World…Rancid… Converge..." they struggle to remember. "And if you put all those bands together, that's kind of what we sound like," adds Nick.

The band's sound also sets them apart from other bands within the genre. From their debut album ...To The Beat Of A Dead Horse to the latest Stage Four, they have distilled hardcore down its most pure and unadulterated form. The band has matured from the early days of suspense building breakdowns and heavy guitars riffs. Their most recent drop adds melody and brightness while still maintaining the teeth gnashing and full throated sing-alongs one would expect from a post hardcore band. Touché Amoré still makes music to pummel your friends to in a pit, while Jeremy's blunt lyrics keep things relevant.
Touché Amoré has cracked the code on being successful long-term in a heavily saturated genre that becomes more crowded and commercialized every year. But the band remains humble. Jeremy offers a humorously cynical take on the secret to a long music career: "We always say we just haven't broken up yet."
Here's hoping they never do.
---