Sunglasses

Eyeglasses

Collaborations

Extras

Stories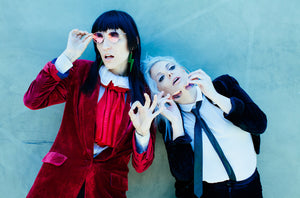 ---
Mixtape No. 35: Play Like a Girl
Photos: Ammo Bankoff
Words: Emily Draznik
---
Play Like a Girl
Play Like a Girl
The music industry is dominated by men; executives at record companies, sound technicians, managers and lead singers. The list goes on and on. It should not be more difficult for a female to thrive in this space, but when a sound guy defers to a male counterpart about levels for your lady leading band, you start to see the imbalance. These types of situations are unfortunately not a surprise to the ladies behind Play Like A Girl (PLAG), a fem collective of LA-based musicians that put on monthly showcases featuring bands with female (identified) performers.

Founders Kimi Recor and Laura Peters met just last year through mutual friends in the local indie music scene. Well, they met and Kimi jokingly says she Single White Female'd Laura via social media and pointedly decided that they should be friends. Yet somehow It seems fitting that Play Like a Girl initially stemmed from a friend crush. They've created a space that can be likened to a warm, fuzzy feeling that can be hard for females in the industry to find. Just going back and forth with these gals in their Echo Park kitchen, you could tell that they've created a very special place in what can sometimes be a hostile environment to work.
The music industry is dominated by men.
It shouldn't be more difficult for a female to thrive.
Both Kimi and Laura grew up in Colorado (but in separate towns) and had similar coming of age experiences. One moved from a small European town into suburbia and rebelled by purchasing old wedding dresses from thrift stores to wear to school, while the other attempted film school before moving to Los Angeles. She then remodeled a home by herself with the funds she would have spent otherwise analyzing some art student's last minute final. Each has their own experiences of what it really feels like to be a female in the music industry. For Kimi and her band Draemings, the sound guy is only allowed to ask her questions. For Laura, she purchased an old meat market on the lot of her home and turned it into a DIY event space because no one in town would book her band. Each had to learn how to adapt to a male-dominated industry and are hoping to encourage other women to do the same.

Of course these ladies couldn't do it all without help. They've enlisted a girl squad of fellow female Angelenos to assist. Ammo Bankoff specializes in photography (and happened to shoot this feature), Lisa Fernandez is the mastermind behind their PR strategy while Francisca Valenzuela, a South American pop star, helped organize the all female Ruidosa Festival in Chile; the first mainstream promotion of women's music and enterprises in Latin America.
Play Like a Girl wants to change the meaning behind the phrase.

Play Like a Girl wants to change the meaning behind the phrase "Play Like a Girl" from a negative insult to a positive compliment. And so far so good. They're already booked with full rosters through November and have an upcoming showcase at Little Joy during Echo Park Rising. Notably Kimi and Laura have noticed fellow female musicians from bands they admire roll through some of their events. This only helps grow a community that otherwise wouldn't exist in Los Angeles. They think the best way to help change the rhetoric is to band together and support each other. So take a listen to the mixtape that Laura created for us. If you like what you hear, come on out and celebrate girl power at the PLAG stage at Echo Park Rising on August 20. You'll hear some sweet tunes courtesy of No Girlfriends, NEW EViL, Pipe Dreams, Stars at Night, The Bomb, Iris, Alyeskaa, Flames of Durga, Nightgown and ExSage. Kick off starts at 1pm at Little Joy! Hope to see you there.
---