Sunglasses

Eyeglasses

Collaborations

Extras

Stories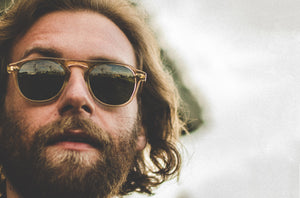 ---
Mixtape No. 29: Maxim Ludwig
Mixtapes /January 4
Words: Colin Stutz
Collaborator Photos: Vlad Sepetov
---
Maxim Ludwig
It's rare to find a musician who believes in rock and roll as much as Maxim Ludwig. For the Los Angeles-born 27-year-old, all that faith translates into plenty to say – and it's a beautiful thing once you get him going. Maxim (yes, that's his real name) is a big-living kind of guy, a man of extremes in experience and attitude – a frank instigator in the tradition of R.P. McMurphy, Warren Zevon and Norman Mailer. He is heroic in demeanor more than in action, irreverent to all but his craft. After gaining some local buzz in 2009 (one of several L.A. Times articles was bluntly titled "Someone sign Maxim Ludwig by the end of the day, please"), he disappeared from the scene for reasons unclear then. Now he's back with the new soulful songs "All My Nightmares" and "Assembly Line" released via Hit City U.S.A. with a refined knowledge of himself, a seven-piece live backing band and plenty of stories to tell.

As a Los Angeles native, what kind of influence do you feel the city has had on you? What kind of pros and cons come with that? I have a love/hate relationship with this city. Mainly, I love to hate it. But I feel like I'm allowed to hate it here. Like that old saying, "Don't call my dog a dog." Because of the amount of time you spend in your car here, you become incredibly reflective and self-reflective. A lot of my songs take place in cars, getting somewhere, running from something, or getting lost. With all that "alone time" you have to be careful that it doesn't make you passive-aggressive. Like when someone wants to get in your lane and you just scoot up and pretend not to see them. I never want to be that guy. I really relate to the work of those who see this city for what it's worth, like Nathanael West and Paul Thomas Anderson: the greed and the hope intertwined.
Where do you found yourself drawing inspiration from these days? When it comes to outward inspirations, I've always been obsessed with the unreliable narrator. I'm reading a lot of Jim Thompson and George Saunders at the moment. Inwardly, I like to put myself in compromising and often dangerous situations. For the kind of songs I like to write and the stories I like to tell, it means a lot of staying up late and making decisions that may not be the healthiest or smartest, but I will get something out of them. I love the way emotions are heightened when people are drunk and the way they talk. Some kind of absurdist psychodrama I can pull from any of that and combine with romance is usually my favorite. It seems unusual for young artists today to be doing true blue-collar work like a factory job. What (if any) lessons did this time offer? I learned to drive a forklift.
I've always been obsessed with the unreliable narrator.
Part of the story with your first two singles "All My Nightmares" and "Assembly Line" is that they're comeback songs – you had tons of hype around L.A. in the late 2000s but kind of disappeared and wound up working in a deluxe edition CD and DVD packaging plant. What happened then and what brought you back to music? Frankly, I needed a job and music wasn't making me any money. I needed to be able to pay rent and put gas in my car. I was also disillusioned with the music business. It really broke my heart. I felt like I didn't have any control anymore because of the people I chose to work with and the contracts I signed, so my rebellion was to not make music and keep to myself. I was then asked by an old friend to go on the road to play keyboards and guitar for his European tour. So I started playing live again, just me and my guitar, and I was able to save enough money from that tour to get back into the studio again. It gave me time to really discover the kind of music I wanted to play. I wanted to make something that I would like.
Can you describe your creative ethos? Rock and roll is a very unique art form and pretty holy to me. It's the only art where the actor is also the writer and the character and the director. The image is in itself, part of the art. It's a great tradition. Rock and roll has a huge amount of pageantry involved and I'm a sucker for that. The name change, the reinvention, the clothes, etc. With each album from Bowie, you get a new character, a new look, a new haircut, a new philosophy. I spent a lot of time looking at album covers and liner notes to learn about the world. It's almost anthropological. What you do is you take the attributes of yourself that are most honest and true and unique and showcase those. I got lucky with my name and didn't have to change it. Though rock and roll people applaud the behavior that makes me unique and myself, it's the stuff people would frown upon if I were a businessman. Rock and roll allows me to be exactly who I am and even more so. In everyone's life they try to fit in at a certain point and that just depressed me. It was a real fucking bummer. As soon as I started doing the things that I wanted to do and didn't second guess them, I became Maxim Ludwig.
Your live show is an undeniable, full energy spectacle. What's the key to your performing? What have you done to shape it? Playing live is my favorite feeling in the world. I wish I could mainline it. There's a lot that goes into it. I don't believe in doing anything half-assed. I always finish my meals. The live music experience is the only thing that you cannot recreate on your tablet or computer or your phone. It's the physicality of the sound hitting your chest. The theater of the lights. It's spontaneous and dangerous and I love it. When I go out on stage, I want to be the performer I've always wanted to see. Like a boxer that leaves it in the ring. After the shows, I'm usually high for a good two hours and then crash pretty hard. I am lucky enough to play with some amazing musicians in the Raw Dog Band and they are like a big beautiful net for me to tightrope above. Our drummer and I treat the music like a burlesque act; the rhythm drives my movements and vice versa. Ever since I stopped playing guitar live, it's really freed up my body to direct the band and get closer to the audience. And every show is always a dialogue with the audience. You can't be like a movie they watch, you have to involve them and make it their show. They paid money to see me and I know what it's like to pay an hour and a half's worth of wages for 30 minutes of music. I'm going to give them something to remember. What kind of impression would you like to leave on this planet? How do you hope to be remembered? That I did a great impression of Maxim Ludwig.
- Find more Max on insta. Catch his show next Monday, January 11, 2016 at Bardot in Hollywood. RSVP for free entry. Shop featured sunglasses and clip-ons
---