Sunglasses

Eyeglasses

Collaborations

Extras

Stories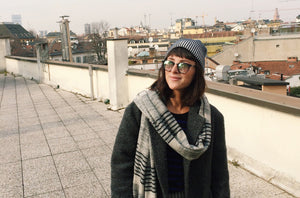 ---
---
Although much of our sales trips take place inside a box with little to no air ventilation, we do have those special moments around town with our team. And for some reason this trip seemed to include a lot more of that than normal. Maybe because I was in NYC right before and arrived to Milan a couple days early, or maybe we just a made a point to get around town. In any case here's a few photos from a bunch of different cameras from around town. 
The view from the team's apartment was quite spectacular. If only the show took place at a time where it was a little warmer.
We really stuffed them in like sardines for our sales meeting the day before the show. I promise we are going to have the most awesome locations for these meetings one day, but for now we are building the family atmosphere in tight quarters.
Markus came through HUGE, getting an autographed jersey from legendary German footballer Schweinsteiger for Elena's brother in law. Apparently Mr. S. is a huge GLCO fan and was happy to accommodate the request.
Me and the Doukas in Milan. Sorry I lost your Parrabelum flag pin. It just disappeared!
The doll wall is frightening! Why? I don't understand this at all.
My first meal upon arriving was so delicious. Honestly it was my most memorable and we ate some incredible food. Wait, I actually take that back, Carolina's was better. 
Will, Alex, & Agnes.
Ok, this actually happened at the show, but I'm just throwing it in there.
Will, what do you think of this photo?
Nuff Said.
My hotel was really great. If you are ever in Milano, check out the Yard. Seems like it would be amazing in the summertime.
This is Carolina's, and this was the best thing I ate on the trip. Crazy because its pretty much an american meal, but it tasted like it was from the south. Italians just know what they are doing when it comes to food.
Alexandra and Jessica selfie.
Team dinner at Deus Machina for the second year in a row. Can't go wrong there, really a great meal and great drinks. Don't understand why they don't have a restaurant at their Venice location. Thats all from Milano Fashion week!
---