Sunglasses

Eyeglasses

Collaborations

Extras

Stories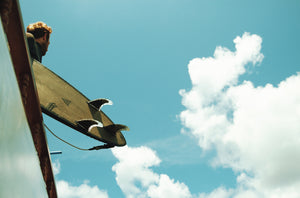 ---
---
Surfing: a sport, a passion, but also a story of friendship. I started surfing when I was 12 so I could keep up with my older brother and his friends. I grew up in Marseille, a city in southern France, where the winter waves can sometimes compete with the more famous spots of southwestern France, but you have to make yourself available at all times to get the most out of it. If you surf in Marseille, you're making the sport a priority in your life.

Today surfing is both part of my life and my escape, my relaxation time. Over the years I have found a group of friends who share this passion and together we use it to explore various parts of the world. The team consists of Canto, Christopha, Greg, Ju Fritz, Nils, Caillou, Coco, Ricci, Tariot, Ju Deslecques, and myself; we all come from different artistic backgrounds and all feel the need to create, to express our creativity whatever the field. It is this spirit that has united us around surfing. From the Mediterranean to the end of the world, we always find the opportunity to escape for a few days to meet again on the water.
This last year, Maldives. The warm turquoise water, the dolphins and the reef, the perfect waves right and left without end. 11 friends, 10 days alone on a boat amidst desert islands with continuous breaks, a real Disneyland for any surfer.

Every day the boat was anchored in an island channel, and a small vessel we named the Dinghy took us to our surf spots. The day usually started with an early morning session at dawn, when the first light shone through the waves. Breakfast back at the boat, conversations about what the waves had in store for us, and then surfing all day.

On the boat everyone lived at their own pace, the hours mixing surfing, laughing, eating, napping, fishing. Good waves gave us euphoria, driving us back into the water. At sunset the sky turned red and the sun plunged into the sea, forcing us out of the water. We'd finish the day on the boat with beers, tired after six hours of surfing. Sleep, and then another day in heaven.
---