Sunglasses

Eyeglasses

Collaborations

Extras

Stories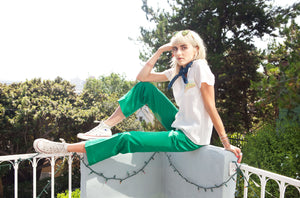 ---
Langley Fox
Photos: Curtis Buchanan
Words: Yasi Salek
---
If I were to write a novel about Langley Fox, I would call it "The Accidental It-Girl". It would be a hard-boiled detective story, since she already has the fondness for hats and mysterious demeanor of a 1940s noir starlet. Fox has all the prerequisites of a modern day It-Girl: She is beautiful, with bone structure that could cut glass; she is stylish, with her signature blend of vintage florals, rock n' roll alien chic; she has tomboy elements making her a favorite of the fashion world; and she possesses an enviable pedigree as the daughter of actress Mariel Hemingway and great-granddaughter of Ernest Hemingway. However, good genes and an innate sense of style notwithstanding, it seems that Fox less climbed her way up and more stumbled her way into her current cult status.

The 25-year-old beauty grew up in Ketchum, Idaho, a quiet ranch town surrounded by mountains and nature. Like most children, Fox grew up drawing. "Once I figured out you could do it forever, I was in!" Though she lives in Los Angeles now, Fox still draws a lot of her inspiration from nature, both that of her youth and that which surrounds her now. "I love hiking and there are an abundance of options in Los Angeles. The desert is near, camping in forests is another option, and really all around the weather is awesome," She creates when she's happy. "I may have that weather disease where when it's cloudy I'm depressed and when it's sunny I'm happy and when I'm happy I want to endlessly make things, so since it's practically always sunny in LA I'm pretty much always inspired to work."


Early on, Fox chose to go by her middle name instead of her famous last name. She wanted to be characterized more by her own achievements and less by a family legacy, and also because, well, she just really likes the name Fox. Her artwork is her focus in life, but Fox also occasionally models, a side-career which came to her by way of her sister, catwalk favorite Dree Hemingway. Though she fell into it quite unintentionally, she has already worked with the likes of Marc Jacobs, Genetic Denim, and Just Cavalli, and is the new face of Sonia by Sonia Rykiel. But when it comes to fashion, it's Fox's collaborations with brands like Alice + Olivia, Everlane, and Pamela Love that really allow her to shine on.
When I ask her what work she is most proud of, Fox says, "I did 10 illustrations based off Hemingway's A Moveable Feast for Louis Vuitton a couple of years ago. That was originally very scary and hard to grasp as a subject, but I think I created some of my best drawings then." In terms of work she likes best? "Some of my favorite drawings come from when I get a chance to take a moment and draw something just for myself, as I'm usually backed up on things I have to draw for work or for "friends" that I've endlessly promised people."
When she's not in Milan or Paris for the random photo shoot, Fox holes up in her Silver Lake house, drawing for hours on end. Her ideal creative environment? "I think to start a drawing I have to be somewhere alone and silent because if I'm not concentrating, I either mess up or just stare at a white piece of paper for far too long. Drawing outside is 'romantic' but realistically kind of hard, either the sun hitting the white of your paper blinds you or the wind creates a very annoying corner curl. Ideally a room with an open door to the outside with a subtle breeze, summer weather, and a lush view would do the trick." It's clear that Fox's success is no accident at all. What makes her exceptional isn't her cool clothes or pretty face; it's her true talent, gentle humility, and natural authenticity that make her truly "it."
---