Sunglasses

Eyeglasses

Collaborations

Extras

Stories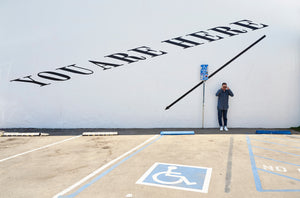 ---
---
HVW8
HVW8
HVW8 is like the jazz standard. You have a basic chord structure, but within the structure, there's room for improvisation. In a similar way, we approach art like music.
So imagine yourself at an underground art show in the year 2003. Before you is a 6'x6' canvas, overlaid with a basic graphic. Over the next few hours, a trio works away at it painting and filling the space with various references, a visual sampling of sorts. This is a picture of HVW8's roots – a youthful, hands-on approach to the mash-up of fine art and graphic design culture.

Nowadays it's different but the same. The format has changed – HVW8 (pronounced heavyweight) is a physical gallery space off of Melrose with rotating artists rather than its previous incarnation as an arts collective in Canada – but the love of bringing avant-garde arts, music, and design under the same roof still remains.

Only take "under the same roof" as a figure of speech, though – because really, here the show takes place both inside and out. Tyler Gibney, HVW8 Gallery's curator, works with both up-and-coming and established artists to fill the gallery's interior and two outdoor murals with graphic, punchy pieces. Naturally, music is a requisite: every gallery opening means bumping jams in their back lot, a huge outdoor party with friends, strangers, and neighbors alike.

We're more about being inclusive than exclusive, Gibney shares. But he didn't need to say it out loud for us to recognize that. He was all about bringing street art to gallery walls back when it wasn't even a thing yet. And now, with a new HVW8 outpost in Berlin, a city that feels like New York in the 90's right now, we'd best take note: there's nothing like bringing the outside in and the inside out to shake things up.
---