Sunglasses

Eyeglasses

Collaborations

Extras

Stories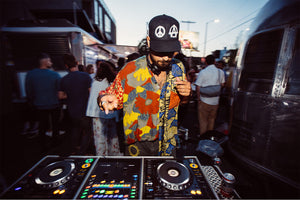 ---
---
This holiday weekend we went back to our old hood Venice Beach for the launch of our latest collab with our friends at General Admission. The collaboration includes a limited edition oversized beach umbrella and banana-leaf print beach towel, perfect for the summer days ahead. The set is an homage to both GLCO and G.A.'s origins in Venice Beach, where beach culture still reigns supreme.
We celebrated the launch and the long weekend in the best way we know how: beers on the beach, a live DJ set and La Isla Bonita tacos. The pop-up shop (inside the G.A. storefront) turned out great, and it was fun getting to chat with all of you and recommend our favorite frames.
Thank you to House Beer and Jose Cuervo for providing event refreshments and to La Isla Bonita for being your beautiful, dope self. As always, a big hug and thank you to everyone who showed up. You guys keep us young. Oh, and P.S.: If you'd like to buy one of our GLCO x G.A. beach umbrellas, you check them out here.
---