Sunglasses

Eyeglasses

Collaborations

Extras

Stories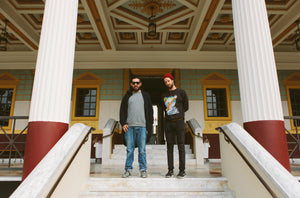 ---
---
This one seems like forever ago. Sometimes images get lost in the crazy juggling of content, I guess. In any case, last summer we headed out to the Bu' for a test shoot with Ethan Lovell and Madison Elaine Chertow, and our trusted photo assist Pierre. Per usual it was a perfect west coast beach day giving us mostly sun, but a little bit of clouds to work with here and there making for some lighting tests. We planned 3 locations, The pier, Country Mart, and the Getty. Unfortunately the Country Mart was unsuccessful, they are real sticklers there when it comes to photography. 
Can you guess this car year and model without seeing the entire thing? I know I can't.
This is @madisonelainechertow in Lincoln Sun. as you can see there were some clouds in the sky, but it was perfectly blue out. 
Old Getty is pretty great for what it is, can't beat the location. It definitely doesn't have the energy it used to have before the new Getty was built and it certainly doesn't boast the views. 
Hampton Clip is still a killer.
I don't think she necessarily wants to be naked, at least it feels that way.
Hampton in matte espresso is a great color if you have piercing blue eyes.
Stadium seating at its best.
Obligatory?
Special thanks to Ethan, Pierre, and Madison. Sorry this took so long to share. However, its got me dreaming of summer and possibly another round at a different location. Other Getty?
---