Sunglasses

Eyeglasses

Collaborations

Extras

Stories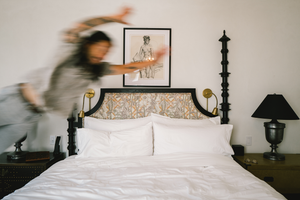 ---
---
'Genius loci' refers to the spirit or a character of a place. Most often I touch that spirit in nature—the desert of West Texas or the San Juan Islands outside of Washington. Sometimes, I feel it in a building, like Donald Judd's Spring Street home in SoHo. I can feel the spirit of the land, the people who've passed through and the vision of the architect. It's the reason the mansion in "The Shining" or Wes Anderson's magical "Grand Budapest Hotel" never leave me.
A two-minute drive in Austin from my 1940's Hyde Park bungalow finds me in the midst of such a spirit: the Commodore Perry Estate. Ten acres and a 10K square foot summer mansion for the Perry family in the roaring 20's. I learned that Edgar Perry earned the nickname "Commodore" when a flood carried his boat away on Lake Austin, and I found myself weirdly jealous of both having a boat wash away and having such a sick nickname.
So in 2021, I, who have never had a boat wash away, instead of turning left into Jersey Mike's Subs, turned right through the estate gates into another world. Let's see what it feels like to spend one night as a 1920's decadent Texan, eh?
Our car was greeted by a French valet dressed in white linen. Immediately, I am relieved I wore my brownish grey linen outfit because that would have been embarrassing. My partner Christie and I enter through a heavy iron door to meet Adam, our lovely host, who leads us into the sitting room. The room smells like leather. I feel like I'm sitting in the living room of someone who's regularly won out on the Antiques Roadshow. Christie touches all the chairs in the room, and Adam leads us to our room.
Christie and I have a wonderful hotel routine. Step 1: try on the hotel robes. Delightfully soft. Very cute. We take bathroom mirror selfies. Gold faucets look good on us. Step 2: We take turns running and launching ourselves onto the hotel bed. Firm with a perfect bounce at the finish. It's a fun way to know what our night's sleep is going to feel like.
After a quick nap, we went downstairs to the mansion for cocktails and hushpuppies at their daily Punch Bowl social. Two Zebras, (we named them Ziggy and Zaggy) mounted on the wall welcome us into the hall. With cocktails in hand, we explore the main mansion, including the current art installation by Delaney Allen. The immersive piece made me feel like I was in a charcoal bath filled with roses, apparently the official estate flower. (Note to self: declare my own estate flower when I return home. Can one declare an official estate weed?)
We finished our drinks in time for our reservation at the estate restaurant, Luties. You guessed it, named after Mrs. Commodore. Instead of her legendary jazz soiree, we settled for a delicious meal, a solid playlist, and a nightcap back at the mansion while watching Rollfast Ramblers, a Western Swing band.
The next morning was spent at the estate's Palm Springs style pool. Under yellow striped umbrellas, I read Eckhart Tolle and wrote poetry while sipping a late morning vacation Modelo.
So what is the spirit of the Commodore Perry estate? I can go on recounting all the gorgeous architectural details or describing the way the heat rises off the crushed granite walkways, but in the end, as with any strong spirit, you'll just have to come discover it for yourself.
---