Sunglasses

Eyeglasses

Collaborations

Extras

Stories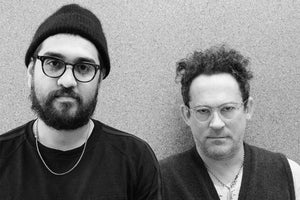 ---
Garrett Leight x Mark McNairy
Words: Garrett Leight
Photos: Mike Selsky
---

WE ASKED MARK...
WHY DID THE CHICKEN CROSS THE ROAD? BECAUSE, THAT'S WHY. YOU FUCKIN' IDIOT. WHAT IS FASHION? A WASTE OF MONEY. WHO IS YOUR FAVORITE WORLD LEADER AND WHY? DONALD TRUMP. HE'S GONNA BE GREAT. WHAT IS YOUR FAVORITE COLOR? AT THE MOMENT, BRITISH RACING GREEN. HOW IMPORTANT IS SOCIAL MEDIA TO YOU? IT IS MY ALL, MY EVERYTHING. WHICH DO YOU LIKE MORE, MONEY OR FOOD? IF YOU AIN'T GOT NO MONEY, THEN YOU AIN'T GETTIN' NO FOOD.

IS THE WORLD THE BEST IT'S EVER BEEN RIGHT NOW? BELIEVE IT OR NOT, IT PROBABLY IS...OR AT LEAST THE BEST IT HAS BEEN SINCE THE HUMAN SPECIES APPEARED. WHAT WOULD YOU ADVISE ASPIRING DESIGNERS? TO ASK ADVICE FROM SOMEONE OTHER THAN ME.... WILLIE NELSON OR BOB DYLAN? WILLIE PLEASE. MEEK MILL OR DRAKE? INDIFFERENT. HOW MUCH MONEY DO YOU HAVE? NOT ENOUGH. SUNGLASSES ARE _____________ A WONDERFUL MEANS OF HIDING YOUR TRUE FEELINGS.
Flip out for Mark and Garrett's newest flip-clip collab, the Valdese.
---