Sunglasses

Eyeglasses

Collaborations

Extras

Stories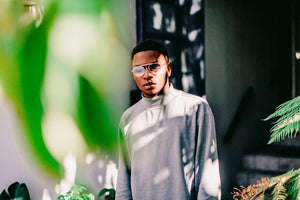 ---
Mixtape No. 42: Gallant
WORDS: Charisse Brown
PHOTOS: Andres Tardio & Keenan Turner
---
Gallant
Gallant

The Next Big Thing. A Can't Miss Talent. One to Watch. All of these things have been said about Gallant. And all of these things would be true. From performing swoonworthy covers of "Hotline Bling" with Sufjan Stevens to a standing ovation on The Tonight Show, or captivating the sunburnt Coachella crowd with a transcendent rendition of his breakout single "Weight in Gold" with none other than Seal, it's hard not to think that he is a man on the brink. His debut album Ology is a wholehearted R&B manifesto that suggests you can still find optimism and hope among self-doubt and insecurity. His sound draws inspiration from influences as diverse as Janet Jackson and Phil Spector and Radiohead, driven by his desire to push the genre into a realm of something more boundless. The album is the result of someone knowing what he wants to say and making sure he says it the way he wants it to be said. Comparisons to Prince are inevitable on tracks like "Episode" with its funky bassline and his signature sultry sounding falsetto. The confessional soul of "Talking to Myself" and "Bourbon" wants to let you into Gallant's world no matter how exposed that makes him. You get the feeling that there's a commitment and a willingness to challenge himself to be more emotionally vulnerable with his lyrics and his voice at every turn. Gallant just wants to keep it real.


You've been on the festival circuit and now you're headlining a tour. What kind of mindset are you in right now as all this is happening? I'm excited to travel. It's really interesting to observe myself in new situations I've never been in. Performing the album is just different every time, so with each new audience everything takes on a different meaning for me. It's a constant learning experience and I'm happy to be a part of it.

What has the audience reaction been like since the album has been out? I did a lot of shows before the album was out, so it's jarring to see people who know the music. It's liberating to perform material that I've been working on for a long time. I've been enjoying it and I feel like I've been able to focus on digging deeper and giving a more vulnerable experience on stage.

You've cultivated a very specific aesthetic on social media: a lot of stark, raw behind-the-scenes photography of your life that seems to have a very isolated look to it. Yeah, I really like the 90s kind of Fujifilm look. I guess I'm just focused on making sure that everything I'm putting out there to represent me is something that I genuinely like and is really honest and coming from a true place. I think that a lot of photography of me and even some other things online about me are just me trying to be the most honest version of myself.

You were born and raised in Maryland and then moved to New York to go to NYU. Was it just the music scene or something more specific that drew you to LA? Well, oddly it was more the opposite. I was really focused on going to New York when I was a kid because I'm from the suburbs and that's what you do, you go to the big city. But I'm just not a city person. When I visited LA for the first time I realized that it is a major city, but it's different, it has a different feel. There's a lot more freedom, it's a lot more self-directed. You take yourself from Point A to Point B, you're not getting in the system. Psychologically that gets to you at some point. I landed in LA and I just really saw a diverse topography and an open-ended narrative for me to form my creative self. It just kind of made sense and felt like home. And it was so far away from my birthplace that it felt like a new frontier. It seemed like the right thing to do.




Who are some of your contemporaries you are really digging? I've been a little bit out of touch for the past six months or so but I'm one of Shura's biggest fans. I love her music. Dev Hynes. I've always been a huge Dev Hynes fan. Niki and the Dove is great. I don't know if they put their album out yet but "So Much It Hurts" was incredible. It really captured the spirit I think they were coming from. I still remain a huge How To Dress Well fan. There are a lot of people who are making music that's resonating with me because they aren't really trying too hard. They're just kind of saying what comes naturally to them and that really inspires me.

Anybody you've been eager to collaborate with? I'd love to work with this girl NAO out of the UK. She's incredible. She's amazing. I've been a fan of hers since whenever she came out. I've been trying to get involved. I've been trying very hard.

What do you want people to take from your music and you as an artist? I would say that when I was writing the album I really tried to focus on not becoming a caricature of myself. Not really thinking – trying to learn about who I am and not trying to protect who I thought I was or who I think I am. Hopefully it comes across as something that's honest and genuine and vulnerable. There's a lot of stuff on there that I really hesitated for a long time to get comfortable with putting out. I'm not the kind of person who wants to talk about my lyrics too deeply because I know what I wanted to say the first time. If that shines through in some way and inspires someone on any kind of level then I'm honored.


---