Sunglasses

Eyeglasses

Collaborations

Extras

Stories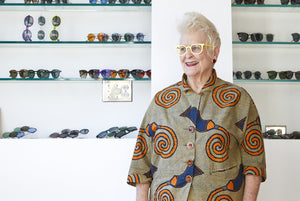 ---
Gai Gherardi, legendary co-founder of l.a.Eyeworks
---
By Gai Gherardi
I landed in eyewear by accident, really. My best friend Barbara McReynolds got us both jobs at an optical shop in Lido Isle in the early seventies, because we wanted $200 to hitchhike to New York. Our boss was a guy by the name of Ed Rose, who loved to play golf. He'd teach us how to de-center a lens, or adjust a pair of glasses in the morning, and then leave us to run the place in the afternoon. Both of us were makers, so we loved the tactile nature of the business. And the first time I ever put a pair of glasses on someone, looked in their eyes, and touched the back of their head, I knew I had found my calling. I thought: This is such an incredible way to connect with people.
 Both Barbara and I worked in different shops for seven or eight years. Barbara worked for Dennis Roberts at Optique Boutique, where Elvis got his glasses, and I was working for a guy named Manny Salzman who sold custom pieces to musicians like Stevie Wonder. There were only two kinds of optical shops in those days – the fancy, mall shops, or the neighborhood shops where guys in white labcoats with bad breath would get your glasses from some dusty drawer. It was time for things to change.
We started looking for a space on Melrose Avenue in 1979, which at the time was just this crosstown street full of furniture repair shops and spray booths for lacquer. Our first store was a spray booth, and we rented it for next to nothing. My dad built the space, and Barbara's neighbor was an architect and we hired him to design it. That's how it worked then, and how it still works for us: You've got your tribe, your family, and they just seem to appear. Your heart's beating just like theirs, and it just happens.
Photo (left): A family photo from 1980 that was shot for an early press profile
We grew up in Huntington Beach, and liked the glasses the lifeguards wore. We loved aviators, and the kind of American glasses that you'd now think of as the style Malcolm X wore. It was hard to buy anything new in those years, because most of it was ugly. We started buying up old stock from Shuron Continental that we could dye, drill full of holes, sandblast, drag on the cement, anything we could do to make them feel custom. We thought: let's strip it all down, no logos, make everything unisex, it sounds obvious now, but salespeople would come by and scratch their heads at us.
We started putting up windows in the early days. Things like: Coming Soon, Changing the Face of LA, or Eyewear From the 50s, 60s, and 80s. We wanted to forget the 70s. We'd just spent the previous few years in shops getting men out of the draft for Vietnam by upping their prescriptions so they'd be classified 4F. Our opening window was a pile of glasses with 70s drop temples and logos and they were just destroyed, crushed under fake boulders, it began a cultural dialogue that was important to us.
Photo (left): An early line drawing ad with details of the Melrose store interior from the first year of business, 1979, by artist Renee Bendixon (pre-black and white portrait campaign!); Photo (right): An early portrait by Greg Gorman of Margo Willits, Barbara McReynolds and Gai Gherardi in a high concept look (!!). We affectionately refer to this image as 'The Mudheads'
A few weeks after opening we had to start putting up signs that said: "We're Too Crowded. Please Come Back." There just wasn't any competition. And Melrose was coming along, cool shops like Industrial Revolution and Cowboys and Poodles were opening up that became anchor stores and like-minds – same feeling. There was a real pioneering spirit: If you can afford your rent, staple up some trash bags and open the door. Just get it going.
There wasn't much to buy in our store then, because it was all custom. So the store became more of a hangout spot for the neighborhood: We had Mr. and Mrs. Goldberg coming in with their walkers, and then we'd have Divine coming in in full drag. It was an exciting idea about what a community could look like. We had big art shows every month, where people would be overflowing into the street. People were hungry for culture, and we saw eyeglasses as a vehicle for our perspective: anyone who was doing good work, we wanted to highlight—we sold boxer shorts and art, and hummingbird feeders, it didn't matter, we just wanted to present things to people in a new way. To us, all of it tied into where you should get your glasses, because that's the point when you start to see things. 
We designed our first frame, the Beat, in 1981, the same year we opened an espresso bar next door. We'd work in the shop all day, and in the restaurant all night. One day, we got a call from Bergdorf wanting our glasses, and we had to put them on hold to see if we had enough pairs to sell them. Our dream was to advertise our little shop in Interview Magazine, which was the coolest rag at the time. We got involved with Greg Gorman and began shooting black and white portraits of our friends in the neighborhood, or upcoming celebrities he had access to. Funny enough, we still kind of fly by the seat of our pants in that way. There's no master plan. We didn't make up a brand, we just asked you to look at how you framed something, and we just rode the wave. It was a true gift of doing what you love and finding some success with it.
These days you can lay in bed with a pizza and order anything you want while you're in your jammies, which is nice enough. But putting that up against a brick and mortar experience, for me, pales in comparison. I find pleasure in going into a shop. I want to know the people. I want the experience of talking. I've been going to the same cleaners for a hundred years, and I like that they know me, and I can ask about them, and they will offer to carry my clothes to my car. People don't have a lot of time, and eyewear is very expensive, so when someone says they're willing to spend the money and not get 6 pairs for $20 or whatever, then you better pony up, too.
I want you to believe that my glasses are vibrating with my story and that you'll feel the goodness of l.a.Eyeworks when you wear our glasses, as anyone who makes something would want. But for me it's about building a community that matters most. We turned 40 years old in September. And I don't think about it much, but I couldn't help reflecting a little. I have the best gig in the world for me. Yes, it's been a rollercoaster, a lot of challenges, you can't put anything on one speed and leave it, you have to tune and adjust as you go. But I love the culture of being in the street, of being out on the sidewalk, I don't want to see that go away. If we don't have the diversity in our ability to interact, that's just too homogenous for me.
---