Sunglasses

Eyeglasses

Collaborations

Extras

Stories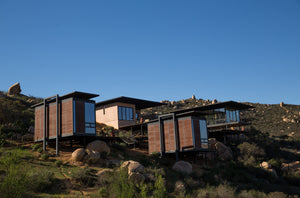 ---
Encuentro Guadalupe
Features /March 16, 2015
Words: Scott McCourtney
Collaborator Photos: Brian Kent
---
When visiting the exquisite Valle de Guadalupe of the small but impressive wine region in Baja California Norte, Mexico, one must experience Encuentro Guadalupe. This Frank Lloyd Wright esque resort-winery calls itself the anti-resort. The eco-friendly rooms are built right into the rugged hillside of the Guadalupe Valley and Baja's premier wine producing region. In 1905, a group of Russian pacifists' called Molokans became refugees and migrated to what is today called Francisco Zarco. The Molokans were from the area of which present-day Turkey sits. Fleeing religious persecution from the Russian Orthodox Church, they first arrived in Los Angeles, California but found the land undesirable and headed south to the fertile Valle de Guadalupe.

Encuentro, led by Hugo D'Acosta and Thomas Egli, will woo you with its original design and the wine from the vineyards which produce Merlot, Cabernet Sauvignon, Cabernet Blanc and Nebiolo. With natural Mexican hillside plants surrounding each facility and boulders inside some of the rooms, the designer wanted the entire property to not only blend, but become one with the land. The rooms are spread throughout the eleven acres of the grapevine filled property and as you might imagine in true Mexican style, dirt roads lead all visitors to their rooms throughout this amazing enchantedly land.

The main house which features the winery and restaurant sits on top of two huge boulders and of course is also built into the land's natural environment. The wine cellar has a bar for tastings and an actual cave for storing bottles of wine. The restaurant and wine bar are open to the public and limited production is available for sale, so stock up when you visit because you won't find their wine anywhere else in the world.
Go on, getaway:
Head out to Antiresorts asap.
---