Sunglasses

Eyeglasses

Collaborations

Extras

Stories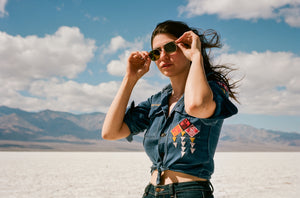 ---
Death Valley
Photos: Hanna & Foulkes
Words: Shawn Hanna
---
Death Valley National Park is something akin to scientific porn for geologists. Mother nature blankets most geographic locations this close to the equator in life abundant: grass, trees, vegetation, mammals of varying size and nutritional predilections, and the often grandiose spectacles associated with the changing of the seasons. But not Death Valley. This park lies naked, with every peak and valley bare, upon which geological voyeurs may feast their eyes and drool over the colorful volcanic deposits, soaring mountains, abysmal and alien salt flats, and the folding and buckling of rock.

Located in Eastern California, Death Valley is the lowest, driest, and hottest place in North America. With record breaking temperatures reaching up to 134° F (56.7° C), very few animals or vegetables thrive here. (Minerals, however, are fucking winning!) It bottoms out in Badwater Basin, a giant salt lick for enormous alien herbivores 282 feet below sea level. But if you drive a mere ten minutes north you are at a surprising 2,000 feet above sea level in an area lovingly named Artists Palette, where crustal collisions and volcanic activity have painted the rocks rare shades of turquoise, umber, rose, and lavender.
When I scouted the park, two obvious questions crossed my mind – what films have been shot here? and would I know any of them? It turns out that Death Valley has an extensive IMDB credit sheet, with cameos in 143 titles. The most notable (and possibly the only one that matters) is Star Wars. In fact it appears in not one one but two of the franchise favorites – A New Hope and Return of the Jedi. If you look closely you can recognize Death Valley in the majority of scenes on Tatooine, and even a snippet of the road to Jabba's Palace. I would recommend getting screenshots from the film and then, with your lightsaber in one hand and a trash can painted blue and white in the other, embarking on a search for every single rock and cave you can match to the corresponding scenes. Of course you wouldn't have to do something that grotesquely epic since it has already been done by some kooky fans in a little 90s-style website featuring a self-guided tour.

Ok so we have digressed a bit. Beyond these constant wonders the most notably historic feature of Death Valley National Park is its rare super bloom. Every 10 to 14 years this almost lifeless place explodes into mind-bending fields of desert wildflowers, and this February offered one of the grandest spectacles of life flourishing in a harsh environment. Following heavy rains in October, dormant seeds sown a decade earlier began to bloom; fields of yellow and purple crawled up the foothills, swaying gently in the wind, giving the impression of a desert valley breathing in psychedelic waves. It's as if the unabashed landscape grows shameful of its nudity and pulls a blanket of colorful lace over its own bare form. To most this may seem modest. But to a true believer such modesty leaves plenty of room for the imagination.
---