Sunglasses

Eyeglasses

Collaborations

Extras

Stories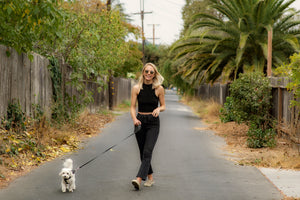 ---
Brooke Rewa of Goodmylk Co.
The creator of a "game-changing, industry disrupting plant-based milk product for the masses" shares how she stays grounded in the AMs.
---
By Brooke Rewa
Both my morning and my evening routines can be pretty intense, and they've gotten more intense, because I was recently diagnosed with chronic Lyme disease. So much about Lyme is managing the symptoms: monitoring your immune system, and inflammation levels. Gut issues are very common with Lyme, and I feel so equipped having the knowledge I do based on my history.
My diehard number one thing these days - and I was late to jump on this bandwagon - is celery juice. I was a big fan of salt water and celery does a similar thing, but I've noticed a huge change in the detox process, how my liver reacts, and the ability to keep inflammation down. Nothing compares to fresh juice, so I do about two bunches of celery a morning - between 20 and 32 ounces of it. Yes, there's an entire shelf in my fridge devoted to celery, luckily it's not too expensive.
The mission of our company — to change the food system and scale homemade, non-dairy milks — is what keeps me most focused. Somedays it's our customer feedback that keeps me going when I don't want to get out of bed.
I love a warm beverage, and my morning matcha ritual has become a thing, too. I make it in the blender, because I add a bunch of adaptogens and additives. I've been really into adaptogens for five or so years, since before they were cool! If something becomes popular in the mainstream, I'm not usually listening—it has to be my own journey. The best thing about adaptogens for me is you can base them around how you're feeling each day and where you want a boost. It makes you feel like you're in control a little bit. Not a bad thing for right now! Hanah ashwaganda is the best quality ashwaganda I've tried. I also like chaga, and astragalus is my go to, I'm probably immune to it as this point.
Movement of some kind also plays a role in my morning: whether that's stretching, or yoga, or just a long walk with my 12-year-old Maltese, Bazooka. (Like the gum.) My husband and I just moved to Napa from LA, so I love getting a chance to walk around our new neighborhood, see the houses, and peer in on people's gardens.
The other thing I make sure to do every morning is take our two house bunnies out of the cage to run around. I make them cuddle with me first. They don't like it as much as I do. I used to meditate a lot, but it's fallen off in the last few years. But I always take a minute or two and close my eyes and ground into the earth and say a few things to myself that I'm grateful for. If I miss the gratitude thing, I notice a big difference in my day.
In partnership with HANAH.
Photography by Sean Cusick
---