Sunglasses

Eyeglasses

Collaborations

Extras

Stories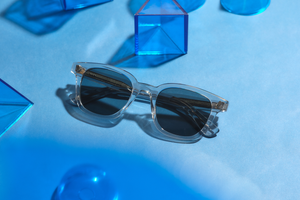 ---
Broadway
Our Broadway frame offers sturdy protection and maximum comfort for any time you need to create a little mystery.
---
Michael Jordan is world famous for his sneakers but we thought it would be fun to highlight another, more low key ingredient of his personal style, his love for oversized sunglasses. At six foot six, it takes a lot for anything to look super big on Mike, but when it came time to find a complement to his snazzy suits, his go-to was always a pair of weighty and substantial jet black Wayfarer-style frames.
Before we go any further, we're going to pump the brakes here and ask you to create a little critical separation between Michael Jordan, the hero you saw leaping towards the heavens on bedroom walls across the world, and Michael Jeffrey Jordan, the human man born on February 17, 1963 who was not without his complications or demons.
During the 1993 NBA Finals versus Charles Barkley's Phoenix Suns, Jordan was interviewed by his friend, the broadcast journalist Ahmad Rashmad, to address one of MJ's most shadowy addictions — his struggles with gambling. In one of the most classic uses of sunglasses of all time (self-mythologizing meets self-defense) Jordan spent the entire interview, which took place indoors at a TV studio, answering pointed questions from behind his jet black shades.
MJ might have missed a clutch shot here and there before, but you could say that this interview was really the first time we saw that this incredible brand/person was on the hot seat for disappointing his millions of fans. Those big glasses gave him a layer of protection during a time when he needed it most.
While we can't say that our Broadway frames are our way of making peace with MJ's mortal life challenges, we don't want to walk away from the fact that their slightly oversized look does provide some excellent and powerful coverage from whatever the outside world is going to throw at you. Details like water drop plaques and semi flat lenses bring artful and fashionable touches that look equally great on all types of faces. It's unisex styling at its finest. If you ever find yourself in just a little bit of hot water, the Broadway could be your ticket to calmer seas.
---