Sunglasses

Eyeglasses

Collaborations

Extras

Stories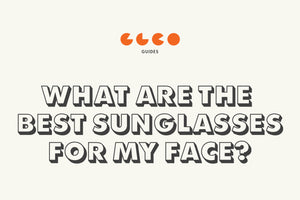 ---
Best Sunglasses for Faces
Words: Jason Betz, Optician at GLCO La Brea
---
Choose the best sunglasses for your face
Let's be honest, choosing a fresh pair of sunglasses can be really hard. I blame it on who ever came up with those ugly "what shape is your face" diagrams. Finding the perfect pair of sunglasses can really be boiled down to two things: how the frame fits and your personal style.

No style looks more swagless than ill-fitting sunglasses. Frames that are too small, sit high above the brow, or a bad bridge fit are all factors that play into finding the right frame for you. A good place to start when looking for a new pair of shades is the overall width of the frame. You need to first find a frame that isn't too wide or too narrow. Does the frame feel really tight when you put it on? It's probably too narrow. If the frame feels loose and appears wider than your face you will need to find a more narrow frame.

Another huge part of fit is where your eye sits in the frame. This is key. Don't skip this step. Your eye should sit in the middle of the lens horizontally and in the middle or slightly above the middle vertically. You want to avoid your eye sitting too high in the lens or too close to the bridge. If your eye sits really high in the lens the frame looks really droopy and just plain bad. It helps to pay attention how different bridges sit on your nose for this aspect; for example, saddle bridges fit a wide variety of nose bridges, but adjustable nose pads allow for an even flexible range of fit, especially if you have a low nose bridge.

Speaking of which, the second thing to consider is your personal style. It is not important that your face is round, square, heart shaped, etc. It is important to find a style that you think is cool. Do you dig a really round metal? Take a look at the Wilson M, the Robson, or find another pair that fits well and rock it. If you're into aviators, take a shot at the Harbor or Arthur Miller-inspired Harding. If you listen to what other people think you will always get conflicting answer about what looks cool. Just be yourself and wear what you like. That combined with a great fit will always looks the best.
- You might also like: Find the Perfect Glasses for Your Face Shape
---