Sunglasses

Eyeglasses

Collaborations

Extras

Stories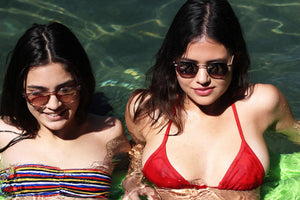 ---
Barton Springs
Daytrippers /June 22
Words: Lindsey Lee
Collaborator Photos: Lindsey Lee
---

The Barton Springs swimming pool is 68 degrees year round. Gleaming emerald water naturally flows from nearby springs into the thousand foot long limestone pool, attracting thousands of visiting swimmers every year. When I first started coming, there wasn't even a fence. After the City of Austin invested millions in additions and renovations residents can now enjoy the pool for $3 during the regular season, and a whopping $8 for tourists.


Barton Springs is my second favorite place in the world – the first being Zilker Park, conveniently located just across the street. Nothing compares to the fearful moment right before you plunge into the freezing water, not knowing if this is the time you'll drown from the temperature shock. Potential swimmers line the concrete sides of the pool as those already swimming coax their friends into joining them in the water. Even when it's 90 degrees outside it can be a challenge to willingly launch yourself into what feels like a tub of ice cubes.




Legend has it that the springs were used during purification rituals by the Tonkawa Native Americans but eventually the area was donated to the city. I'm more spiritual than religious, but the sensation of diving to the bottom of the pool, touching the rock floor and then pushing off with eyes open, approaching the surface and catching a glimpse of sun rays shooting into the depths of the water, is as religious as it will ever get for me.




In Austin, a topless existence is totally permitted. You can't bring in Gatorade to Barton Springs, but a bikini top is completely unnecessary. Barton is notorious for hosting sunbathers looking for fewer tan lines. I've done it from time to time, but with the possibility of creeping photographers waiting to make me the next cover of their 'art book'…no thanks. On Thursdays, Barton Springs is closed for pool cleaning during the day. Lifeguards don snorkeling gear and shoot massive fire hoses to spray away bacteria and debris. I've tried to swim on at least ten separate occasions on Thursdays. Today is Wednesday though, I'm sure of it…but now that I'm walking up to the gate, I'm realizing it is, once again, Thursday. So looks like I'll be coming back tonight.


---