Sunglasses

Eyeglasses

Collaborations

Extras

Stories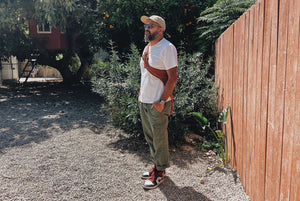 ---
At Home with Patrick Torres-Wright
As we navigate these uncertain times, we're realizing human connections matter now more than ever. In our new series At Home with Team GLCO, we invite you to get to know the team and share how we're coping and staying connected in this time of social distancing.
---
Meet Patrick Torres-Wright, Director of Marketing
If you're working from home, what's your best advice for productivity?
Reflecting over the past 6 weeks working from home, it took me about 2 weeks to get into the groove of balancing family life and being fully engaged with my team while keeping the productivity high. Here are some tips:
Find a spot where natural light is available and create a space that will help you stay focused and productive.
Create a schedule. This was critical for me to keep things balanced. At home, I help my wife teach and oversee our kids and their daily school work. Juggling this with my own work was a challenge at first, but it became more manageable once I structured out my day.
Music and fresh air are mission-critical. I've been listening to a ton of early 2000's underground hip-hop long with ska and classic reggae jams. Skateboarding has also become an essential part of my day to get the blood flowing and feeling good.
Good coffee
Which social media accounts brighten your day?
Trying to avoid crazed commentaries right now. Here are a few that I check out daily to stay inspired: @jaredchambers, @fastcompany, @aimeleondore, @struggle_inc
What's the best piece of advice you've received and/or can give during this time?
Focus on your family and things that are within your control, don't get too hung up on the news, and take it one day at a time.
What's the first thing you're going to do when this is all over?
Eat tacos streetside, skate Griffith Park with my girls, and do other amazing things with family and friends.
What're you wearing?
My daily driver right now is Hampton Sun in Khaki Tortoise with Semi-Flat Pure Coffee lenses. Love the feeling of the mineral glass lenses and the clarity.
What are you cooking?
I really enjoy cooking it up in the kitchen with my family. The goal is to share these recipes and flavors that I love with my wife and daughters and get everyone involved in creating.
Chicken Taquitos, Fuerte Avocado Guacamole, Roasted Tomatillo, Cilantro and Hatch Green Chile Salsa with Lime.
SHOP THIS STORY
---