Sunglasses

Eyeglasses

Collaborations

Extras

Stories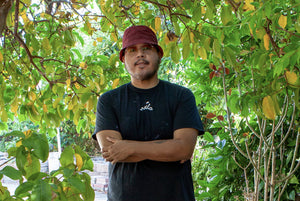 ---
At Home⁠ (and Work) with Faizal Alim
In this special edition of At Home with Team GLCO, we catch up with Faizal, our Logistics Assistant, who's showing up every day to work (along with the other amazing members of our Logistics Team) to keep things moving for you. Here, he gives us an inside look into his current routine at home⁠—at work⁠—in these unusual times.
---
How has the current environment affected the way you work?
Not much really, it's been business as usual from day 1, as the logistics team is still coming into work 5 days a week. I definitely miss the daily interactions with my colleagues from the other departments though.
What are you doing to keep yourself and others safe at work?
At work, we wear gloves as we usually do, but we're also wearing masks the entire time and maintaining social distance. We're also staggering our work hours so only two people are in the warehouse at a given time.
What are you wearing?
The Calabar in Black Laminate has been my go-to lately.
What's the best piece of advice you've received and/or can give during this time?
Not so much as given to me, but heard from an interview: "Take each day at a time. Never look past one day. You just have to be better than yesterday." With everything that is currently happening, this really resonated with me.
What are you watching/reading?
I recently finished watching Ozark. If you haven't seen the show, I highly recommend you start watching it. Since finishing the show, I've been reading Wabi-Sabi Welcome: Learning to Embrace the Imperfect and Entertain with Thoughtfulness and Ease by Julie Pointer Adams.
What's the first thing you're going to do when this is all over?
Go to Woodspoon, get a white sangria, a breadbasket, and a galinhada.
---