Sunglasses

Eyeglasses

Collaborations

Extras

Stories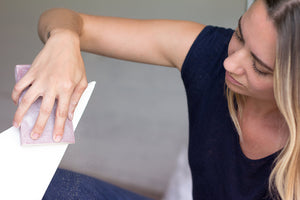 ---
A Common Name
WORDS: Olivia Purnell
PHOTOS: Angelo Kritikos
---
Unexpected Magic

Before we meet, I assume Paige Smith, a.k.a. A Common Name, believes in magic. I feel comfortable making this assumption because her work, specifically her Urban Geode street art, is fanciful as fuck. She builds tiny crystalline worlds, little pots of gold in cracks in the concrete, holes in brick, and drainpipe in cities from Dubai and Madrid to San Francisco and LA. It's the work of a woman who's down to see magic even in the literal gutter.


I thought this artistic sorcery might come with an over-the-top Boho ethos. I'm prepared for some juicing talk, a lot of discussion of moon cycles, etc. But, nah. "I'm into the Sci-Fi, Fantasy thing," Smith says. "Neil Gaiman, Game of Thrones." In her Highland Park backyard, amid a secret garden of knee-high plants overlooking a gorgeous carpet of eastside sprawl, she tells me she's a science nerd to the core. "As a kid, I had a rock collection, dissecting kit, all that. I've just always loved science and had a sense of wonder about nature," she says. Those manmade geodes she fits into cracking cement and defunct phone booths are an extension of this fascination. She's taking the magic of geology – that collusion of lava and gas, liquids and solids, temperature and pressure that creates an amethyst or a crystal – and bringing it one step further. "It's a sort of magical realism, the sci-fi sense that if all of these not-so-impossible separate things happened, then magic would also happen," she says.




Ipso facto, couldn't little golden gardens of amethyst push through the sidewalk like a dandelion in spring? This meditation on the possibilities of our world isn't limited to the streets. Lately, things have gotten bigger. She's made installations for The Standard, The Viper Room, Soho House, and LaLa Gallery. She recently created an 8' by 8' wall Fontana Arts Festival, and she's working on an even larger project for LAX. The work is still geometric and often metallic, but it's now on a much larger scale. "I'm interested in the tiny and the huge. The in between kind of bores me. It's the challenge of either," she explains. The challenge of creating pieces up to 30' or 40' has precipitated a necessary evolution of process. Though she started shaping geodes from folded and cut paper (her installation at The Standard included 5,000 hand folded pieces), she's moved on to mostly resin structures built using silicone molds. This new m.o. requires new considerations.




"One of my favorite things is problem solving. When I'm doing site-specific installations, it's all a problem solve – how much can it weigh? How do I get it up there? Same with graphic design and the bags." Oh, yeah, Smith works as a graphic designer and has a line of handbags, VereVerto, with business partner Consuela Chozas. The idea for the line was born when Smith couldn't find a convertible leather biking backpack she loved. She fixed the problem by making her own. VereVerto, her solution to that problem, turns four this year. So in addition to the massive LAX wall, freelance design work, and ongoing magical street art project, Smith will be travelling to New York and Paris soon to present her handbags at market. "It's a lot," she says. Agreed.




When I ask her what she does to decompress, I'm expecting a meditative answer. Smith is chill in a way that's contagious. And then there's the garden, and her love of nature. I assume she does a lot of early morning yoga, watching the sunrise over the mountains in the distance or whatever. "I hit things," she says. I laugh. She doesn't. "Kung fu," she says. "I do kung fu." Like finding a tiny universe of silver crystals in a brick wall on a crowded street, it's unexpected.


---