Sunglasses

Eyeglasses

Collaborations

Extras

Stories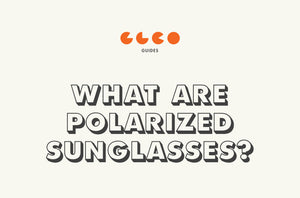 ---
What are Polarized Sunglasses?
Words: Adam Stanton, San Francisco Store Manager
---
Polarized Lenses? What are those?
The sun shines on all of us, reflecting light in every direction, horizontally and vertically. Polarized lenses are coated with a special chemical film that filters out the horizontally scattered light rays – the kind of intense reflected light that hurts your eyes and your visibility. And wherever the sun is shining, there will be glare. So basically, polarized lenses eliminate that glare while still letting the vertical light rays in. Polarized rays shouldn't be confused with UVA & UVB rays, which are harmful to the eye too. While UV coverage is highly recommended – and already included in all GLCO frames – polar coverage is more so a matter of preference and lifestyle. We've put together a short & sweet GLCO Guide to walk you through the pros, cons, uses, and available styles of polarized sunglasses.
Pros of Polarized Sunglasses
By removing reflected glare, polarized lenses increase contrast and visual clarity, helping you to see objects and features more accurately and perceive the true colors of things. Also, you don't have to work so hard to see what you need to see, reducing eye strain and making your eyes more comfortable.
Cons of Polarized Sunglasses
Polar lenses aren't a must-have for everyone at all times, though. For those who often work seriously with color, it's helpful to be aware that the different colors of lenses have their respective tints and contrasts. Also, if you work with screens a lot, polar lenses may make it hard to see sometimes. Most screens need glare, so by removing it you also remove some visibility.
Uses of Polarized Sunglasses
As an optician I've heard devout wearers swear by nothing else for years. This is perfectly understandable given certain lifestyles and activities: polarized lenses are great for the great outdoors. If you happen to be a surf rat in LA and practically live on the beach, you should be all over a polar lens as it works its magic reducing glare on the water. Same thing goes for those poor souls who sit in gridlock on the 101 for hours on end with the sun reflecting off the hood of every beamer and pickup in sight. It's true that polar-free lenses free up young professionals and tech bros of the Bay to swipe through LinkedIn with ease while riding on the Muni. And with so many people taking public transportation, there really isn't the same need for a pair of dedicated driving sunglasses. As long as there is proper UV treatment applied to non-polar lenses, your eyes can be just as protected from UV rays – yep, while gazing into the glow of your digital device hassle-free. (And a word to all the tech bros out there: know that I have nothing but love for you. Once in a rare blue moon you can catch me at the Mauna Loa in a tank top and flip-flops. But just one thing: I will not have a shot of Fireball with you.)
GLCO's Polarized Sunglass Styles
Don't worry, we're not gonna leave you hanging with polarized shades like those oversized, wraparound ones that your mom uses for driving. You can keep your style game strong – and polarized – with styles like Kinney or Wavecrest; a wayfarer style with a flatter top for an ultra sleek look. There's also Brooks, a perennial favorite revamped in new colorways, or the classic Hampton. If you're confused about which lens color to pick, brown lenses enhance colors and contrast, highlighting greens; grey lenses are true to color. Green lenses have a light yellow tint and brightens the world up, but may not be dark enough for light-sensitive eyes. My personal favorite that brings the best of both worlds is the G15, which has a grey-green tint. Go see the world without the glare. It's prettier that way.
Above: the Kinney Sun and Wavecrest Sun with polarized lenses.

–
More eyewear guides here:
---