Sunglasses

Eyeglasses

Collaborations

Extras

Stories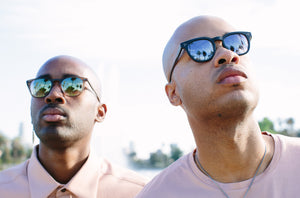 ---
Mixtape No. 17: THRILLERS
Photos: Joshua Spencer
Words: Emily Draznik
---
THRILLERS
THRILLERS
Double the trouble, brothers Jeremy and Gregory Pearson make up the band THRILLERS. Citing the 1980s as their main era of influence, it wouldn't be all that unlikely to see these two walking around Silverlake or Echo Park looking like they could have starred in a Michael Jackson music video. Their roots began in Charlotte, NC where a single mother raised them on gospel and funk music. As young adults the pair decided to move to Atlanta, Georgia to begin their career in the music industry. Now with an established sound and look in tow, they find themselves in the City of Angels. We took a few minutes to catch up with this stylish duo and they gave us their recommendations on the local music scene, their influences and a general sense of funkiness.

You two recently relocated to Los Angeles from Atlanta and North Carolina, what is it about this city that has helped shape your look and sound? California has a free-thinking and magical vibe. This mixed with everyone's creativity, you literally breathe inspiration. Your sound and aesthetic feels rooted in a sense of retro. What specific era do you draw inspiration from? We're blood brothers and 80's babies so we draw from that era obviously. We are also kids of the computer/technology age so that future vibe is there as well.
California has a
free-thinking and magical vibe...you literally breathe inspiration.
Favorite venue to play in LA? And your favorite to venue to visit as a fan. Our favorite venue to play in LA has to be The Echo/Echoplex. They always treat us well there and the sound system is pumping. As a fan we love to hit Bardot in Hollywood for KCRW's "It's a School Night". Who would you list as your main musical influences? We have a wide variety of influences but the nucleus is George Clinton, where would we be without the funk?
---