Sunglasses

Eyeglasses

Collaborations

Extras

Stories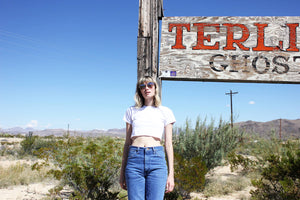 ---
Terlingua Ghost Town
Daytrippers /November
Words: Lindsey Lee
Collaborator Photos: Lindsey Lee
---
Terlingua (population 58) isn't a place you end up in by accident. There's nothing much around it, there's no airport, but you can get here from three directions: north, east, or west. The route from Marfa and Terlingua is the curviest road I've ever taken, running along the Rio Grande, the natural border between Texas and Mexico.

But once you're there the air smells so fresh; something about the lack of cars and abundance of open space that makes me feel like I can breathe. And in the middle of nowhere, palm trees are everywhere, prospering in the desert encircling Terlingua. I've seen them carried across the country on the beds of semi-trucks. They're one of those plants that are so desirable, so iconic, that people will pay to ship them and plant them in a place where they would never grow on their own. The intensely hot days and frigid nights don't suggest a place where much of anything outside of palm trees and cacti could live, but I'm always surprised by all the flowers growing along the town's four dusty roads.

I've been to a lot of small towns, and it seems they all have their own version of curated junk. Sometimes it lives within brick and mortars, sometimes it's displayed outside the town's homes and businesses. In Terlingua, you'll find old collector cars, art installations, and mismatched furniture. Several houses are made from recycled materials, and their residents use rocks from the area to create sculptures and gates for their homes.

On the way out of town you'll find the Terlingua Cemetery, a resting place for early twentieth century miners who excavated mercury and provided 40% of the country's supply in the 1920s. Terlingua was initially a mining town of 3,000 people, but after the negative health effects on touching mercury were realized, the mine was cleared of mineral resources and closed for good. It's a strange feeling when you realize there are more dead bodies buried around you than living people.

When I head to the desert, I go for peace of mind; to clear the space where I would normally be stuck in a routine and unable to separate myself from my to-do list. Whenever I leave home I feel a weird anxiety overtaking me, but at the end of the trip I always feel grateful for the opportunity to open and expand myself. The trip to Terlingua provided just that: total clearness of mind. And for a ghost town, it's a fairly inviting place. There's even a gift shop.
---