Sunglasses

Eyeglasses

Collaborations

Extras

Stories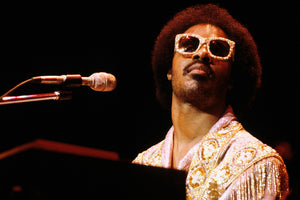 ---
Stevie Wonder
A musical genius, superstar, and global icon, Stevie Wonder made his sunglasses both a celebration and a signature.
Words: Josh Peskowitz
---
Stevie Wonder went blind when he was born. An unfortunate combination of events prevented his eyes from forming properly. It's often said that when one sense is lost, the others are heightened. While it's impossible to suggest where talent really comes from, one thing is for sure: Wonder is among the greatest musicians The United States of America has ever witnessed. And though for him it's a necessity, he has made his sunglasses both a celebration and a signature.
His career started to take off in the 60's, but it was really the next decade that set the tone for the rest of his legacy and inspired legions of musicians the world over. Throughout the 70's, his critical acclaim was only overshadowed by his commercial success. Paul Simon famously thanked him for not making a record in 1976 as he accepted his Grammy for Album of the Year. His musical output of that era – including Music of My Mind, Talking Book, Innervisions, and Songs in the Key of Life – is often called his "Classic Period" and is among the finest in Pop Music History. In '72 he toured with the Rolling Stones, introducing him to a much wider audience and showing that he could hold his own musically and stylistically with the biggest act in the world. His outfits (and of course eyewear) were killer then and only became flyer as time went on.
By the 80's, Wonder was at the height of his popularity. He used his platform to advocate for Dr. Martin Luther King Jr's birthday to be declared a national holiday. He worked with the United Nations to protest Apartheid in South Africa. He scored a movie for Francis Ford Coppola. He won an Oscar for best song. He accepted it in Nelson Mandela's honor. He did duets with Bruce Springsteen and Michael Jackson. He appeared on Sesame Street. Stevie could do it all.
Wonder continues to make music. He's been honored by the Kennedy Center, and has performed for presidents of multiple countries. He's done it all while being himself. His signature style – a quick spin through his album covers from the classic era alone have inspired legions of graphic and fashion designers – and signature glasses and timeless musical legacy have made the world a better place. Keep doing it Stevie!
---