Sunglasses

Eyeglasses

Collaborations

Extras

Stories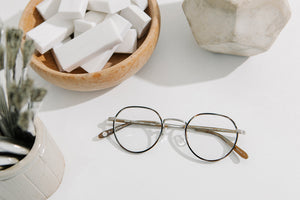 ---
Robson
Born out of the military and made famous by counter culture icons, the P3-inspired Robson frame is universally flattering and classically cool.
---
While soldiers and songwriters might make for strange sartorial allies, the stylistic relationship between the counterculture underground and the military has always been a strong one.
One only needs to think of the hippies' love for surplus army parkas, or So-Cal punk rockers' obsession with combat boots to see that the line between "the man" and "the movement" is a lot more permeable than previously imagined.
Inspired by folkie hero and The Lovin' Spoonful ("Summer In The City," "Did You Ever Have To Make Up Your Mind?," "Do You Believe In Magic?") frontman John Sebastian's Navy-issued P3 frames, our Robson collection blends military precision with plenty of bohemian charm.
Mr. Sebastian is a really dope dude, as well as an innovator in both music and fashion. In addition to being namechecked in the Mamas and the Papas' iconic "Creeque Alley" ("John And Mitchy were getting kind of itchy / To leave the folk music behind") as a godfather of the folk-rock explosion of the mid '60s, John was also a trendsetter in turning up the volume with his wardrobe. He is credited with being the first major rocker to produce and wear his own tie-dyed garments. His move from thin frames to bold, statement-forward frames inspired us to add a bit more rock & roll to our classic Robson model by including a new optical version with a Windsor rim.
The classic Robson's thin metal construction makes it a lightweight workhorse, perfect for sporty or dressy occasions. Details like a distinctive angled rim top, hand painted enamel accents on the eye rim and end piece, and cushioned acetate temple tips blend comfort with laid back elegance.
To round out the collection, we've also added a Windsor rim edition of the Robson inspired by Mr.Sebastian's rocked out, tie-dyed late '60s look. The Robson W features a welded rivet construction for extra durability, all while maintaining the same signature style and fit of the original Robson.
With so many excellent options, we hope you "never have to make up your mind."
---