Sunglasses

Eyeglasses

Collaborations

Extras

Stories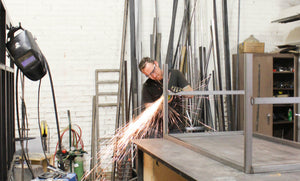 ---
---
When I was in middle school I had the chance to take woodshop. Since my brother had taken woodshop a couple years earlier and recounted this incident where a kid half-jokingly threatened to saw his fingers off, I steered clear of anything that involved heavy machinery and potential loss of vital body parts.
But you know what? I regret letting my (brother's) past haunt me. I damn well wish I took woodshop because, really, it's always cooler to build stuff than to not. 
Thankfully, Patch PSS Design Cult, our neighbors and buds down the street, have zero fears of getting their fingers sawed off. They just go for it when it comes to building rad things. They've built some shelves at our office, and most recently, some sweet desks. Fun fact: the desks are, lengthwise, almost as tall as I am. (I am not that tall.)
We stopped by their space a while back when we were checking in on said desks, and couldn't help snapping some photos of their space:
Dude, we need to cop a bandana flag. Stat.
Bases for our new desk. I could make a reference to based god but I won't...
Stuff you can use to saw things with. Anything but fingers.
I think the best caption for this photo is: If only I had taken woodshop 5 million years ago... 
'Merica.
Ironically, Patch's logo is a hand with fingers cut off. But we'll have to get that story from them another time. 
---