Sunglasses

Eyeglasses

Collaborations

Extras

Stories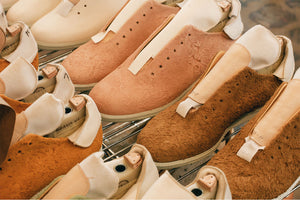 ---
No.One
WORDS: Jeff Venida
PHOTOS: Rick Rodney
---
No.One Cares
The most underappreciated luxury that you can give to yourself in this world is time. Keeping up with hype and demand when you're a part of the fast paced, high-volume business of making and selling cool shit can get tired pretty quickly. Your products get rushed to market and the end result can be a resounding "who cares?" After years of running the show for other companies, industry veteran Mark Gainor wanted to slow things down when he founded No.One, an independent brand making sneakers one at a time for the limited few.


By the standards that most footwear is produced today, No.One's Venice Beach workshop feels like an absurd concept in 2017. The open-space studio is bright and airy, with modernist furniture, custom light fixtures, and contemporary art – not the aesthetic you'd usually associate with manufacturing. One side is flanked by various machines that serve some ultra-specific function, while on the opposite end of the room a team of specialized craftsmen sit and produce 90% of what goes into making each shoe by hand using simple tools.




"Nobody really does this for sneakers," Gainor says. "We hand-last all our shoes," describing the process of shaping material around a custom built mold for days to bring each shoe to life. It's the kind of old-school approach to shoemaking you'd envision a master cobbler making dress shoes inherited from their great grandfather. In the center of the room sits a metal rack where the latest edition of the Bravo, their German Army Trainer-inspired silhouette, completes its final curing process. There are only eighteen pairs, the maximum they're able to create at once. After these shoes are packaged and out the door, the team switches the design completely and starts from scratch.




Of course this whole thing takes an incredible amount of time, but it's exactly how Mark always wanted to do things. After spending a decade in the industry flying back-and-forth to visit Chinese factories twelve times a year, the idea of making shoes in LA, ten minutes from home, seemed like a dream scenario. Besides cutting down on commute time, the real advantage was having complete control. When you're someone who cares about a craft, the entire idea of mass production feels really compromising. That's the reason No.One does everything in house – from the initial sketch to the personalized box each pair comes in. There's room to experiment, switch materials on the spot, break rules. No factory in the world would allow you to have that level of freedom.




A lot of companies like saying they value craftsmanship to appeal to a certain type of audience, whether it's the 'locally-made, farm-to-table' crowd or some kitschy nostalgia for doing things the old fashioned way. While No.One is definitely borrowing from the past, it's not trying to recreate it. "We don't really think of ourselves that way," Mark explains. "There's a cultural association with craft where people see it as unmodern and we want to go against that. We're creating something new using the best ways we know how." For No.One, even stating this as a brand is completely meaningless. "It's not a purity contest. We'd rather just let the final product speak for itself."


---